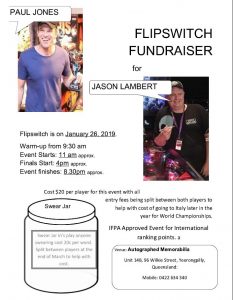 blog post courtesy of Corey Hamilton
Date 25/26th January 2019.
Cost $20 per player.
This fund raiser is to help Paul Jones and Jason Lambert to go and play in Italy. These two players are Australia's top two players in pinball.
The name of the fund raiser is call Flipswitch, each player that enters will play ten games and the qualifying of the top eight players will be in the final.
The members of the Silverball pinball club played out of Autographed Memorabilia at 14B 96 Wilkie Street Yeerongpilly Queensland Australia have also been collecting can and bottles for recycling to help go towards helping these two members. Just for a bit more to add to helping there is a have Swear jar in play until the end of March 2019. The cost is 20 cents per word,with some member paying money up front just in case the pinball machines don't go there way.
We also have the Men of Leagues, which are ex NRL players they are going to help out with a auction which will be held in either February or March 2019.