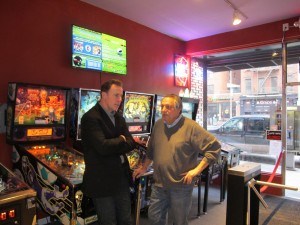 Gridiron Support posted a write up on their blog follwoing the conclusion of the Flippin' With the Greats Pinball Tournament. Click HERE to read the article.
In the first ever Flippin' with the Greats Pinball Tournament players from the Northeast region competed for a brand new pinball machine in addition to an assortment of prizes including footballs, hats and memorabilia signed by NFL legends and Hall of Famers. The four-week tournament leading up to the NFL's Super Bowl in New Jersey and was a tremendous success raising more than $4,000 for Mike Ditka's Gridiron Greats Assistance Fund.
IFPA Co-Chairman Steve Epstein and former 2002 NFL Most Valuable Player Rich Gannon are pictured working out the details to an IFPA/Gridiron nationwide campaign planned for later in 2014, so stay tuned for details!