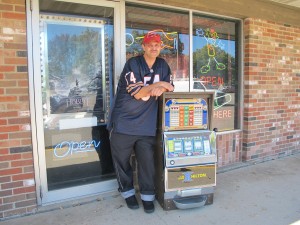 Once again the FWTG winning player came from the NFC North, with Dave Gorka (representing the Bears) taking home this classic Las Vegas Hilton Slot Machine.
The next Prize to be awarded will be a Pinball Machine, so join the FWTG League today to get in on the action!
Again, we are pleased to announce that the FWTG Tournament Series will be expanded beyond the 32 NFL team markets. Any city in the world can host a " Coach Ditka Wild Card" FWTG charity fundraiser tournament. The winner of each "Wild Card" Tournament will also be awarded an Invitation / Entry to the Grand Final Event.
Remember, The "Flippin' With the Greats" season long Pinball initiative Directly benefits Coach Ditka's Gridiron Greats Assistance Fund…Your participation literally helps Change Lives!
There are many more BIG prizes on deck to be given away to League players throughout the NFL season. Don't miss out! Join in now to get in on the action!
A quick reminder that there are TWO components of the Flippin' With the Greats campaign:
1) The LEAGUE – This is fantasy football meets pinball. Sign up and join the team of your choosing. All the WPPR points you have earned in 2014 will go towards helping that team in the standings. We will be raffling off prizes the rest of the year to league members, including NFL memorabilia, pinball memorabilia, spots into the Grand Final, and actual pinball machines. Click HERE for more details.
2) The TOURNAMENT SERIES – This will be the IFPA's December charity fundraiser campaign supporting the Gridiron Greats Assistance Fund. There will be 32 tournaments held in the various NFL cities, along with Coach Ditka Wild Card tournaments available for cities outside of the NFL markets, where players can donate to the cause, and play for a chance to advance to the Grand Final and win other prizes. Click HERE for more details.
The Gridiron Greats Assistance Fund (GGAF) is a non-stock, non-profit 501(c)(3) organization providing financial grants and 'pro bono' medical assistance to retired NFL players in dire need. The organization focuses on the humanitarian side of post-football related issues, which include coordination of social services to retired players who are in need due to a variety of reasons including inadequate disability and/or pensions.
Get behind Coach Ditka's Gridiron Greats Assistance Fund and "LIKE" Gridiron Support on Facebook at https://www.facebook.com/gridironsupport.org.