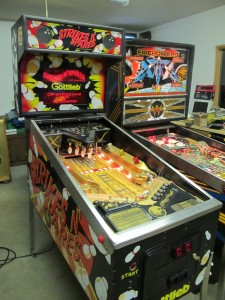 The IFPA / FWTG League is excited to announce – a Gottlieb Strikes & Spares Pinball is up for grabs!
This machine is shopped out and ready for your home game room.
Strikes & Spares will be awarded to a randomly selected FWTG League Participant on November 28th @ 9pm CST.
Winning player will be responsible for any shipping charges (we will help coordinate a wholesale carrier), or the Pinball can be available for pick up in the Minneapolis or Chicago areas. As an alternative prize, Gridiron Support is offering a set of (5) GGAF Hall of Fame Medallions with matching serial numbers, if the winning player declines the Strikes & Spares as their prize.
Here's a recap of all the prizes given away thus far in the FWTG League:
Andrei Massenkoff won set of HOF medallions
Josh Sharpe won set of HOF medallions
Tim Zollner won set of HOF medallions
Jon Drew won autographed photo w/ medallion of Rich Gannon
David Daluga won Slot Machine
David Gorka won Slot machine
Curtis Baker won autographed photo of Coach w/medallion & letter from GGAF "Honorary Captain"
Tim Sexton won set of HOF medallions & just won the Time Warp pinball machine
Kevin Birrell won set of Seahawks tickets
Pair of tickets to the Jets game
Remember, you MUST join the FWTG League to win.
In the coming weeks there will be many more great prizes awarded (including Pinball machines), so get in the game now!
Most importantly, your participation in FWTG League directly benefits Coach Ditka's Charity…Gridiron Greats Assistance Fund.
Please make sure to "Like" Gridiron Support and the IFPA on Facebook as well!
A quick reminder that there are TWO components of the Flippin' With the Greats campaign:
1) The LEAGUE – This is fantasy football meets pinball. Sign up and join the team of your choosing. All the WPPR points you have earned in 2014 will go towards helping that team in the standings. We will be raffling off prizes the rest of the year to league members, including NFL memorabilia, pinball memorabilia, spots into the Grand Final, and actual pinball machines. Click HERE for more details.
2) The TOURNAMENT SERIES – This will be the IFPA's December charity fundraiser campaign supporting the Gridiron Greats Assistance Fund. There will be 32 tournaments held in the various NFL cities, along with Coach Ditka Wild Card tournaments available for cities outside of the NFL markets, where players can donate to the cause, and play for a chance to advance to the Grand Final and win other prizes. Click HERE for more details.
The Gridiron Greats Assistance Fund (GGAF) is a non-stock, non-profit 501(c)(3) organization providing financial grants and 'pro bono' medical assistance to retired NFL players in dire need. The organization focuses on the humanitarian side of post-football related issues, which include coordination of social services to retired players who are in need due to a variety of reasons including inadequate disability and/or pensions.
Get behind Coach Ditka's Gridiron Greats Assistance Fund and "LIKE" Gridiron Support on Facebook at https://www.facebook.com/gridironsupport.org.