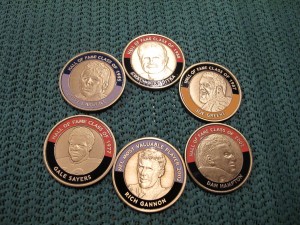 Brian Benway is the winner of the set of 6 NFL Star Medallions. This 6 Medallion set features matching serial numbers and 2 color Epoxy Fill corresponding to each players' team colors.
The FWTG Tournament results are rolling in, with the Champions from each tournament qualifying for the Grand Final to be in Las Vegas at the end of March.
Thank you for supporting Coach Ditka's Gridiron Greats Assistance Fund. Your participation in the IFPA / FWTG League directly benefits Coach's GGAF!
Please make sure to "Like" Gridiron Support and the IFPA on Facebook as well!
A quick reminder that there are TWO components of the Flippin' With the Greats campaign:
1) The LEAGUE – This is fantasy football meets pinball. Sign up and join the team of your choosing. All the WPPR points you have earned in 2014 will go towards helping that team in the standings. We will be raffling off prizes the rest of the year to league members, including NFL memorabilia, pinball memorabilia, spots into the Grand Final, and actual pinball machines. Click HERE for more details.
2) The TOURNAMENT SERIES – This will be the IFPA's December charity fundraiser campaign supporting the Gridiron Greats Assistance Fund. There will be 32 tournaments held in the various NFL cities, along with Coach Ditka Wild Card tournaments available for cities outside of the NFL markets, where players can donate to the cause, and play for a chance to advance to the Grand Final and win other prizes. Click HERE for more details.
The Gridiron Greats Assistance Fund (GGAF) is a non-stock, non-profit 501(c)(3) organization providing financial grants and 'pro bono' medical assistance to retired NFL players in dire need. The organization focuses on the humanitarian side of post-football related issues, which include coordination of social services to retired players who are in need due to a variety of reasons including inadequate disability and/or pensions.
Get behind Coach Ditka's Gridiron Greats Assistance Fund and "LIKE" Gridiron Support on Facebook at https://www.facebook.com/gridironsupport.org.