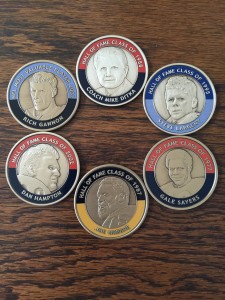 Robert Gagno, playing in the AFC West (Seattle) was last week's FWTG random drawing winner of a beautiful Wild Africa Slot Machine!
Congrats to Robert on this great addition to his awesome home Game Room!
As we all recall, Robert demonstrated exceptional Pinball skill by winning the Brand New Stern Mustang Pinball Machine last year at the 2014 Flippin' With the Greats Final Tournament in Las Vegas.
Not only is Robert one of the best Competitive Pinball players, he is also One Lucky Guy!!
Along with the Wild Africa Slot Machine, Robert also is awarded an entry to the 2nd Annual FWTG 2015 Final Pinball Tournament Party at Alice Cooper's sports bar – "Cooper'stown".
Next Week's Fantasy League Giveaway drawing will be for a valuable Limited Edition Set of 6 Gridiron Greats "Star Series" Medallions, each Epoxy Colored with Matching Serial Numbers.
As always, next week's drawing will also include an entry to the Cooper'stown Final event.
Next week's drawing will be held on Wed, Dec 2nd at 8pm (CST).
Join the FWTG "Fantasy League" NOW, to get in on this and ALL future prize drawings, including a FIREPOWER 2 Pinball Machine!
Reminder – The Fantasy League "Division" with the highest combined player WPPR Point total, will receive a bonus round of prize giveaways to its players at the conclusion of the 2015 FWTG Campaign.
Also… Anyone interested in participating in a Flippin' With the Greats "Tournament" (Or scheduling a FWTG tournament in your area?), please visit Gridironsupport.org to view the complete FWTG tournament schedule AND the PRIZE POOL (with pics!) available to All Regional Tournament First Place Finishers.
Please consider scheduling an FWTG Tournament in your area to benefit Coach Ditka's Gridiron Greats Assistance Fund AND Alice Cooper's Solid Rock Teen Center.
IFPA/FWTG tournaments may be scheduled on any date up to and including, Jan 24th 2016.
For more information or questions, please call Vicki @ 612-999-3984(FWTG)
A quick reminder that there are TWO components of the Flippin' With the Greats campaign:
1) The FANTASY LEAGUE – A "League" where IFPA members can support their favorite NFL team (and win cool stuff) by simply buying an IFPA medallion Personalized with the Player's name, IFPA #, and the NFL team they support.  Great prizes will be distributed to League Participants throughout the season. Click HERE for more details.
2) The TOURNAMENT SERIES – A Nationwide series of tournaments to be scheduled throughout the NFL season culminating in the SUPER BOWL Pinball Party at Alice Cooperstown in Phoenix, Az. Click HERE for more details.
The Gridiron Greats Assistance Fund (GGAF) is a non-stock, non-profit 501(c)3 organization, providing financial grants and "pro bono" medical assistance to retired NFL players in dire need.  The organization focuses on the humanitarian side of post-football related issues, which include coordination of social services to retired players who are in need due to a variety of reasons including inadequate disability and/or pensions.
Alice Cooper's Solid Rock is a non-profit 501(c)3 organization, also. Solid Rock's primary mission is to make an everlasting difference in the lives of teens by helping them meet their spiritual, economical, physical, and social need.  Alice Cooper's Rock Teen Center offers a safe, engaging environment during non-school hours –a time when they are most vulnerable to drugs, violence, and gangs. Maintaining a teen's worst enemy is too much time on their hands Solid Rock provides the music, arts, vocational programs and fellowship that challenge teens to discover their passion through music, dance, self-expression, and creativity. Learn more at www.alicecoopersolidrock.com.
Support and Follow our 2015 Flippin' With the Greats Pinball Campaign and "Like" Gridiron Support on Facebook at https://www.facebook.com/gridironsupport.org