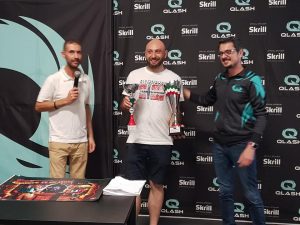 blog post courtesy of Alessio Crisantemi
Daniele Acciari from Rome has triumphed, winning the title of 2018 Pinball Italian Champion, in the eSports & Pinball event at Qlash House.
Treviso, Italy – A real triumph that of Daniele Acciari in the Luca Pagano's Qlash House, where he won the title of 2018 sports pinball Italian Champion. And he does it "in his own way", that is achieving a nothing short surreal score on a pinball machine still almost unknown to the players, as the brand new "Iron Maiden" by Stern Pinball, proposed in national preview at the "eSports & Pinball" event, thanks to the partnership between Ifpa Italia – organizer of the event – and the Chicago producer, together with its Italian distributor Tecnoplay.
Second place for the Venetian player Daniele Baldan, while the outgoing Italian champion, Roberto Pedroni, must be satisfied with the third place. Fourth place for the Swiss Levente Tregova.
A success came at the end of the two days of great entertainment went on stage in Villorba, near Treviso, during which the pinball event took place alongside that of videogames, with a competition on the famous game "Herthstone".
In addition to the main tournament won by Acciari, a side tournament was also played on only "classic" pinball machines (that is the vintage pinball machines of the Sixties and Seventies).
Here Pablo Iacoponi from Pisa won, before the Roman Gabriele Tedeschi and the British number one in the UK ranking, Rick Mallett.
SPACE TO VIRTUAL PINBALL TOO– However, the real news has been represented by the virtual pinball tournament: a competition that represented the middle way between the world of sports pinball and that of competitive videogames. The player Davide Della Ianna from Lombardia won the virtual tournament, before Mirko Plumari and the Slovenian Ales Rebec. But space also for women, with the Italian delegation of the International Pinball Association, which also awarded the best player of the event: Antonella Iannotta, who prevailed over the other participants. To celebrate sports pinball women and the virtual tournament winners, a series of gadgets and trophies were directly sent from Stern Pinball in Chicago, partner of the event together with Tecnoplay and Double Pinball.