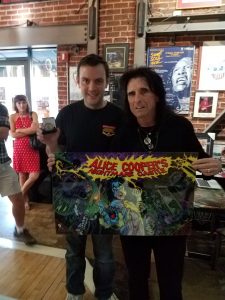 The 2016-17 IFPA Flippin' With the Greats Final Showdown at Cooper'stown was a Rocking success!  In a nail biting Showdown, Eric Stone barely edged out Bob Matthews to Score an autographed "Alice Cooper's Nightmare Castle" Pinball Machine.  Full tournament results are posted here:  https://www.ifpapinball.com/tournaments/view.php?t=18133#
We were honored to have Charlie & KT Emery in attendance for the festivities and to discuss Spooky's upcoming Nightmare Castle Pinball.
Everyone in attendance received Awesome raffle prizes, and Alice Cooper personally awarded and Autographed each of the Skill level prizes.
All of the Photos from this great event can be viewed at: https://www.facebook.com/groups/274537899559147/photos/
Thank you from Alice & Coach Ditka to all who participated in the regional tournaments and the Cooper'stown Final Showdown.  Your interest in their charities and involvement in the FWTG Hall of Fame Series is greatly appreciated.
For Info on the upcoming 2017-18 FWTG Series, Join the IFPA / FWTG Hall of Fame Pinball Series group on FB: https://www.facebook.com/groups/274537899559147/
Lots of big surprises to come!