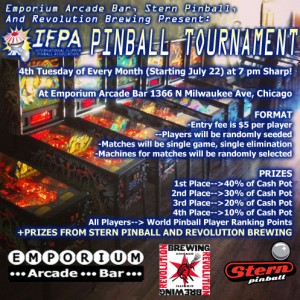 The IFPA, Emporium Arcade Bar, Stern Pinball and Revolution Brewing are pleased to announce the start of a new monthly tournament at the Emporium Arcade Bar in Chicago, IL. The tournament will take place on the fourth Tuesday of each month at 7pm, starting on July 23rd.
Entry fee is $5 plus the cost of games. Tournament format is a single game, single elimination head-to-head bracket. Games and seeding will be chosen at random.
All cash from entry fees will be paid out to the top 4 finishers each month. World Pinball Player Rankings points will also be awarded for all participants.
Please contact the IFPA at ifpapinball@gmail.com with any questions.