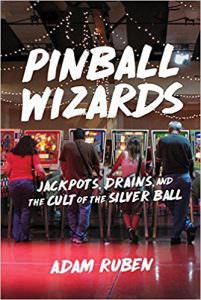 blog post courtesy of Adam Ruben
For some, pinball is just a game from the past. For humor writer Adam Ruben, it's a lifelong obsession that all started with a rousing game at Funland amusement park in Rehoboth Beach, Delaware when he was a kid. As Adam grew older, he began playing competitively, joining pinball leagues, competing for more than a decade and rising as high as the 80th-ranked player in the world. Then he had kids. Now in 9938th place, Ruben tries to re-enter the boisterous and wacky world of competitive pinball.
Pinball Wizards: Jackpots, Drains, and the Cult of the Silver Ball (Chicago Review Press, November 2017) by Adam Ruben tells the dynamic story about America's quintessential arcade game. By visiting pinball museums, gaming conventions, pinball machine designers and even pinball factories, Adam attempts to discover what makes the world's best players so good. The book also explores the history of the game, as well as its invention, defeat and recent resurgence in American culture today. He presents the four faces on pinball's Mount Rushmore, if there were one, and includes a chapter on Fiorello La Guardia, the New York City mayor who was obsessed with cracking down on any activity he deemed evil and smashed pinball machines with a sledgehammer because the game offended him.
This hilarious guide to the cult of the silver ball also traces how the game has changed throughout the years, and how even though the game has gone in and out of style, its presence remains constant. Pinball didn't just stick around — it grows and continues to evolve with the times, reflecting the zeitgeist of every era it passes through. Pinball Wizards is a fun romp through the flashing lights and swirling ramps of a unique hobby packed with wacky characters. It is the perfect book for anyone interested in the quirky subculture that has survived to enjoy yet another renaissance.