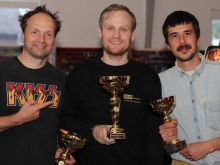 blog post courtesy of Andreas Maarbjerg
I guess many people around the world have difficultys namedroping danish athletes or sport legends. Sure we have the football playing Laudrup brothers, tennis darling Caroline Wozniazki and the NFL hall of fame kicker Morten Andersen. But by now almost every pinball player or enthusiast should know Peter Andersen. He just entered the IFPA top 25 (21st place, atm) after another round of great results, when he visited the neighbours in the Norwegian capital Oslo and their fine tournament Tilt pinball open.
For those who think "Peter who?", you better get ready for the IFPA World Championship next weekend, because i and the rest of the Danish pinpopulation are sure, that he will make a great result and is definitely this years dark horse.
On behalf of all of Denmark: We are sorry for the embarrassing effort of Pilou Asbæk as Euron Greyjoy in the last season of Game of Thrones. To compensate – we bring you Mr Andersen.