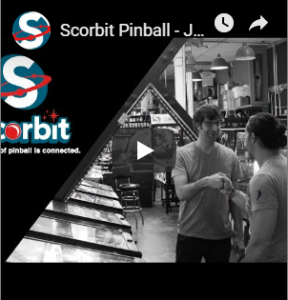 The connected pinball platform is proud to sponsor the premiere competitive pinball organization
August 1, 2019
Scorbit, the connected pinball platform, is excited to announce sponsorship of the International Flipper Pinball Association (IFPA) at the Platinum Sponsor level. This sponsorship marks the beginning of what both Scorbit and the IFPA plan to be a long relationship supporting competitive pinball and helping to benefit pinball tournaments and players around the world.
"The growth of pinball recently can be directly tied to the work the IFPA has done to promote pinball tournaments worldwide and one of the goals of Scorbit is to help continue that growth and make pinball even more fun for more players," said Scorbit co-founder & CTO and Top 50 IFPA ranked player, Brian O'Neill. "Sponsoring and working with the IFPA opens a lot of doors for Scorbit to help tournaments become more efficient and explore potential new ways of supporting competitive pinball."

"Time and time again people are putting their real-world technical expertise on display to help advance competitive pinball forward. The team at Scorbit is doing exactly this!" IFPA President Josh Sharpe commented. "The IFPA is super excited to partner with Scorbit on using their technology to help provide a valuable tool for organizers to add to the quality of their events."
For more information and to sign up for the Scorbit mailing list or reserve an order of a Scorbitron, please visit http://scorbit.io
ABOUT SCORBIT
Scorbit is a connected pinball platform that enables the tracking of scores from a pinball machine to the Internet via a hardware device called the "Scorbitron." Installing a Scorbitron in a pinball machine ranging from modern pinball machines to DMD machines to solid state machines, enables the ability to track scores, progress and other data points and upload that date to the Scorbit app platform. Scorbit has successfully been deployed in professional pinball tournaments such as the San Francisco City Champ tournament and INDISC.