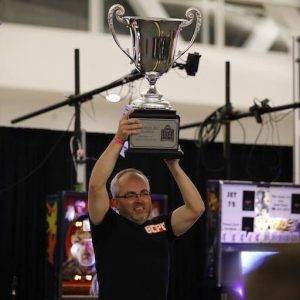 The first timers club streak continues. After Escher Lefkoff at PAPA20 and Raymond Davidson at IFPA14, Colin Macalpine became the 29th player in competitive pinball to be able to call themselves a Major Champion.
Pinburgh 2017 brought together two finalists looking to add their name to this list (Colin Macalpine and Josh Sharpe), with two players looking to add to their legacies. Keith Elwin was looking to capture his record 10th Major Championship, and Cayle George his 3rd.
With his 2nd place finish, Josh Sharpe reached his 6th top 4 finish in Major Championships. Cayle George is now 3 for 3 in top 4 finishes in Major Championships for 2017, increasing his career total to 9, while Keith Elwin reached his record setting 16th top 4 Major Championship finish.
To view the most current list of Major Championship stats, click HERE.