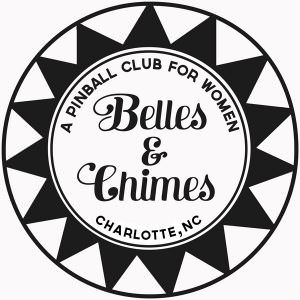 blog post courtesy of Jazmyn Hanks
You might not have heard, but Competitive Pinball is a thing!  Governed by the International Flipper Pinball Association (IFPA), sanctioned events are held throughout North Carolina where participants earn both State Points and World Pinball Player Ranking (WPPR) Points. Currently, there are  217 participants competing in events held throughout North Carolina and over 14,000 who've competed worldwide.
Women make up only 10.3% of the IFPA participants and that is why we are excited to announce the inaugural Charlotte league of Belles and Chimes. On Thursday, October 5th, 2017 at Abari Game Bar located at 1721 N Davidson St, Charlotte, NC 28206, women of all skill levels are invited to join the first North Carolina chapter of Belles & Chimes at 6:30pm.  The Charlotte chapter will be honoring the mission of Bells & Chimes, founded in Oakland, CA, by bringing together women who enjoy playing pinball in a fun, supportive and social environment. The chapter also hopes to introduce more players to the Women's World Championship.
Jazmyn Hanks will lead the Charlotte chapter of of Belles & Chimes. Jazmyn, ranked in the Top 50 of North Carolina pinball players, has been a competitive player since March 2017. "I stumbled upon Abari for the first time in February and I was instantly amazed at their selection of pinball machines. I've been to arcades as an adult but it was my first time being at an arcade with pinball machines.
"I was so nervous at my first tournament, considering everyone was so much more experienced than I was. If that didn't intimidate me enough, I realized I was the ONLY woman present for the tournament. Everyone was so kind to me, giving quick tips to improve my game as a new comer and welcomed me into the tribe; even though we were in the middle of a tournament. I'm elated that Zach, the owner of Abari, agreed to host the women's league!"
Women may join Belles & Chimes Charlotte at no cost and be a founding member in its inaugural year.  Tournaments will be held Bi-Weekly in 2017 with a league finals on December 7th.
ABOUT BELLES & CHIMES CHARLOTTE: The purpose of Belles & Chimes Charlotte is to bring together women who enjoy playing pinball in a fun, supportive and social environment.  www.abarigamebar.com/pinball