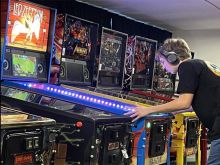 The IFPA is pleased to announce that our Player of the Year for 2021 is 13 year old Arvid Flygare from Lund, Sweden. In the shortened 2021 season, Arvid was still able to rack up an incredible 665.14 WPPR points during 2021. Arvid currently sits as the #6 ranked player in the world having moved up from the #155 ranking at the start of the year.
Arvid was the IFPA Player of the Month in November and likely December 2021 after all results are finalized, having won 14 of the 42 tournaments he played in during 2021, while finishing in the top 4 in 62% of them.
Arvid's highlights during 2021 included a sweep in both the Main and Classics tournaments from the Matchstick Pinball Open along with a top 4 finish at all five events at the Borås Pinball Classic Open, four of which were 1st place finishes.
The IFPA wishes to congratulate Arvid on all of his success throughout this shortened 2021 season!