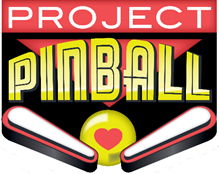 blog post courtesy of Dawn Vermillion
One day when I was on Facebook I found some very intriguing information from an organization called The Project Pinball Charity.
I decided to investigate the site to see what this organization was all about.
I quickly found out that this organization helps put pinball machines in Children Hospital's and Ronald McDonald Houses. They are an official non-profit organization; meaning they solely run on donations they receive through the community. They raise this money through donations, selling of their merchandise, running online pinball machine raffles, and going to gaming expos. I thought to myself… wow such a wonderful way to give to children. Here are these children in a hospital setting with a potential deadly disease and what better way to help them and to keep their minds free and happy then to play pinball!
I know that children of all ages love to play games and they all should be able to play and have fun, just like all other kids their age.
I could only imagine seeing their faces light up when they see the shiny pinball machine with all its lights, sounds, and images to open their minds and give them a new hope to get up each day and enjoy every second that day gives them. The Project Pinball Charity's Facebook and other social media outlets that I have come across have helped me see that for myself. The look on the children's faces is like a mirror into a happy place far away from the real pain of life.
As I reminisce of playing on a pinball machine when I was young in an arcade; I look back and wish there was an organization around like this back in the day. Playing pinball now can be a new way to help others go into their fantasy world while they are playing. Instead, of trying to fight a disease or illness they fight the pinball machine to get that high score, smile, and know they did win that day.
I know hard work pays off and the Love Across America Tour is in its 4th year and going strong. It is a wonderful way to network and show the country all the amazing things that Project Pinball does. It allows the people that support Project Pinball have the opportunity to meet some of the team members in person. Scheduling over 11 states to visit with many more places to stop in between. This tour is a true dedication from the Project Pinball team and how much it means for them to go around America and meet people that may become a potential long-term sponsor of their mission or a friend for life.
The Love Across America Tour takes the Project Pinball Team to many great shows that have organizations that support Project Pinball. These organizations help network with extraordinary talent and allows for great exposure for Project Pinball. Also, by utilizing social networking so America and beyond can see in person what is going on in real time.
From what I have seen remarkable things happen because of the hard work and dedication that the Project Pinball team gives to this charity. They have a great source of networking with others and they find out what loyalty is with all the supporters of the organization, including their own team's dedication.
People will give and enjoy giving when they know their money is going to a great cause. The more Project Pinball is seen and heard about, the more the message gets through of the remarkable things they are doing for the children.
Seeing is believing and as I review the video of the dedications and the images from all the people and places that the organization meets just fills me with immense joy. I just think of how miracles happen daily to bring the Project Pinball team together with so many people in hospitals, at events, and in emails/phone calls. This organization is helping bring people together for a greater calling and know that God is supporting Project Pinball in a very fruitful way.