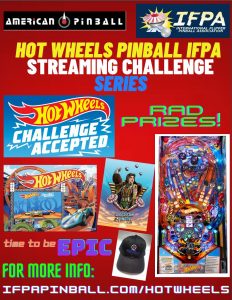 American Pinball and the International Flipper Pinball Association (IFPA) are pleased to announce an exciting Livestreaming Challenge Series on Hot Wheels pinball machines.
 The Challenge Series is open to players beginning on September 1, 2020, and running through December 31, 2020. Players will earn Hot Wheels Points based on how they finish in each of the 15 Challenges being organized.
 Hot Wheels Points will be awarded to the top 8 finishers of each Challenge. An assortment of prizes, including some surprises courtesy of Mattel will be awarded as a bounty for winning a weekly Challenge, along with prizes based on the overall Hot Wheels Points earned across all the Challenges.
For more details including the official rules, application process and prizes visit: https://www.ifpapinball.com/hotwheels/