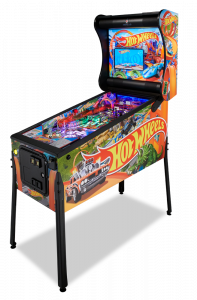 American Pinball and the International Flipper Pinball Association are teaming up to sponsor a Livestreaming Challenge Series on Hot Wheels pinball machines.
The Challenge Series is open to players beginning on September 1, 2020 and running through December 31, 2020. Players will earn Hot Wheels Points based on how they finish in each of the 15 Challenges being organized. Each weekly challenge will start at 8am CST on Tuesday, and end at Sunday 8pm CST.
LIVE STANDINGS AVAILABLE HERE
The Hot Wheels Points will be awarded as follows to the top 8 finishers of each Challenge:
1st place – 25 HW points
2nd place – 15 HW points
3rd place – 10 HW points
4th place – 5 HW points
5th place – 4 HW points
6th place – 3 HW points
7th place – 2 HW points
8th place – 1 HW point
An assortment of prizes would be awarded as a bounty for winning a Challenge, along with prizes based on the overall Hot Wheels Points earned across all the Challenges. Examples of prizes include:
American Pinball Baseball Cap
American Pinball T-Shirt
Amy Pinn T-Shirt
Houdini Translite
Hot Wheels Translite
Grand Prize for the Winner of the Entire Contest:  HW Playfield (unpopulated)
PLAYER APPLICATION
For players that are actively streaming and have access to a Hot Wheels pinball machine please send the following information into the IFPA at ifpapinball@gmail.com to apply to be a participant in the Challenge Series. We will need the following information:
Name, Email Address, Mailing Address, Phone Number
Streaming platform and channel you stream on
Participants must agree that API can use any of the streamed content as potential marketing material for Hot Wheels Pinball
OFFICIAL RULES
Games must be set to the following Standard Adjustments: Ball Save Timer = ZERO, Max Number of Extra Balls = ZERO, Tournament Mode = YES
Challenge must be Livestreamed to the public via Twitch/YouTube (taped challenge attempts will not be eligible)
Players must send the link to their stream along with the timestamp of the challenge being submitted within 72 hours of the challenge being completed.
OFFICIAL CHALLENGES
Best Score (This will last across all Challenges until the series is complete)
Fastest Completed Race Time
Best T-Rex Battle total
Best Triceratops Battle total
Best Cobra Battle total
Best Gorilla Battle total
Best Draven Battle total
Most Cars Collected
Best Track MB total
Best Victory Lap Multiball total
Best Loop Crash Multiball total
Best Car Chaos mode total
Largest EPIC collect
First to Redline in 5th Gear
First to reach Legend Multiball