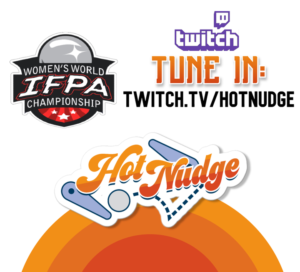 Follow along this weekend as 32 of the top women worldwide play for the title of the 2023 Women's World Champion and a New-In-Box Stern Pinball Machine!
Saturday Matchplay Qualifying Link: https://next.matchplay.events/tournaments/97989
The event will be broadcasted live Saturday and Sunday courtesy of Hot Nudge with hosts Rebecca, Anna and Jane, who are part of the 32 players! Please give them a round of bits, subs and follows for them hosting this premier event while competing! Sunday Finals bracket and standings will be available on Hot Nudge's Stream.
Tune in to the action here: https://www.twitch.tv/hotnudge