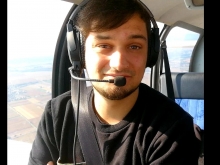 The IFPA is pleased to announce a new award from the 2019 season, and that's the Rookie of the Year award. This award is given to the player that earns the most WPPR points in their first year of active play. Our Rookie of the Year for 2019 is Axel Blonde from Vancouver, BC, Canada.
Axel racked up an incredible 366.09 WPPR points during 2019. Axel participated in his first IFPA sanctioned tournament in April 2019. Fast forward 8 months and Axel currently sits as the 226th ranked player in the world, and is the top seed in the upcoming 2019-20 IFPA British Columbia Provincial Championship.
Axel's greatest achievement of 2019 was his 16th and 9th place finishes at the NW Pinball Championships Main and Classics events, one of the stops on the Stern Pro Circuit during the 2019 season. Overall, Axel won 27% of the 44 events he played in during 2019, while placing in the top 4 at 73% of his 2019 events, a truly remarkable achievement.
Congratulations to Axel, our first IFPA Rookie of the Year! Best of luck to all the players that have yet to start competing on their journey to becoming IFPA's next Rookie of the Year.