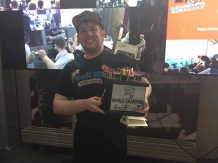 The IFPA is proud to announce that Raymond Davidson has finished at #1 on the World Pinball Player Rankings, thus earning IFPA's top honor as the 2018 "World's Greatest Pinball Player". No single tournament victory will ever secure this title for a given year. Only consistent play at the highest level over the course of multiple years leads to players reaching the pinnacle of the World Pinball Player Rankings. This is the 1st time that Raymond has been crowned the World's Greatest Pinball Player and the 4th player in history to receive this award (Keith Elwin (7), Jorian Engelbrektsson (3) and Zach Sharpe (2) being the other three).
Raymond's greatest achievement of 2018 was defending his IFPA World Pinball Championship title with a victory at IFPA15, along with a victory at the IFPA US National Pinball Championship. Raymond also collected bones at INDISC (Classics), Portland Pinbrawl, Western Canadian Pinball Championships, NW Pinball Championships, Vancouver Flip-Out, Seattle Pinball League, Shortys Annual Pinball Tournament and City Champ and the IFPA Washington State Pinball Championship.
Overall, Raymond won 43% of the 28 events he played in, while placing in the top 4 at 71% of his 2017 events, a truly remarkable achievement. Congratulations to Raymond, and best of luck to everyone on the upcoming 2019 season in the race for #1. Raymond will receive his WGPP trophy at the IFPA16 World Pinball Championship in Italy in June.