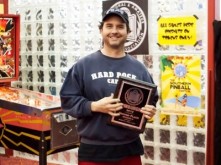 The IFPA is pleased to announce that our Player of the Year for 2018 is Trent Augenstein from Delaware, OH. Trent racked up an incredible 1578.18 WPPR points during 2018. This beats the previous record of points earned during a year of 1425.50 (also by Trent in 2017). Trent currently sits as the #6 ranked player in the world having held that spot from the start of the year.
Trent was the IFPA Player of the Month in June, July, August and September of 2018 having won 32 of the 90 tournaments he played in during 2018, while finishing in the top 4 in 58% of them.
Trent's highlights during 2018 included a 3rd place finish at the IFPA15 World Pinball Champinoship, along with 2nd place finishes at the Texas Pinball Festival , 24 Hour Final Battle at The Sanctum, Buffalo Pinball Summer Open (Classics), 1st place finishes at the Pincinnati Matchplay Tournament, The Amazing Pinball Race and Pinball at the Zoo. Trent earned his 3rd career top 4 Major Championship finish with that 3rd place IFPA15 finish.
The IFPA wishes to congratulate Trent on all of his success throughout 2018. The IFPA posts this with the caveat that there are still 71 sanctioned events left on the IFPA calendar, and it's likely that Trent will play in most of them.