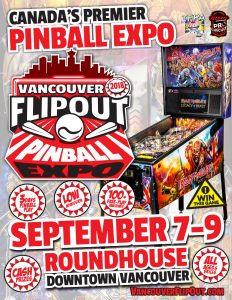 blog post courtesy of Nitro Pinball
Our first annual Vancouver FlipOut Pinball Expo, held in September of 2016 was a fantastic success: Old school arcade classics and the latest cutting edge pinball technology; a local autistic pinball prodigy, competitive and amateur tournaments, the world's largest pinball machine, and much more. 2017 proved to be an even bigger success and prompted our move to a larger venue for 2018!
Hundreds of visitors attend our three-day expo in Downtown Vancouver with over 100 pinball & arcade machines set to free play, guest speakers, vendors and tournaments for all ages and skills.
Mondo thanks to everyone that helped, supported, sponsored & attended! None of this would be possible without the incredible team involved. This truly was a magnificent gathering of pinheads from around the world! I look forward to VFO 2018, at our new home The Roundhouse in Yaletown. As Oscar Goldman would say "Better, stronger, faster!" — See you Sep 7-9, 2018!
Click HERE for more details