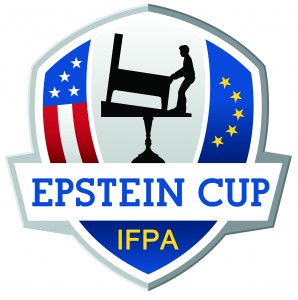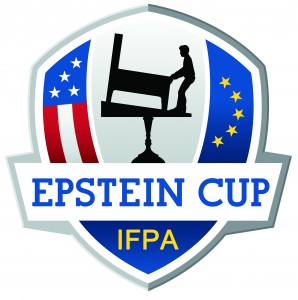 Team Europe currently holds the Epstein Cup for four more months before it is once again up for grabs at IFPA15 in Toronto. 8 players per side earn the right to represent their country in this prestigious event, so let's take a closer look at the rosters for both sides.
Team USA includes current world ranked #1 Zach Sharpe from Chicago, 2-time Major Champion Cayle George currently living in the Netherlands but representing Seattle, 1-time Major Champion Raymond Davidson from Mukilteo, WA, 2-time Major Finalist Trent Augenstein from Delaware, OH, 1-time Major Champion Robert Gagno from Burnaby, Canada, current US National Champion Eric Stone from Fort Myers, FL, 2016 IFPA Player of the Year Steven Bowden from Franklin Township, NJ and 1-time Major Champion Jim Belsito from Murrieta, CA. The 8 members of Team USA 2018 have accounted for 6 Major Championships along with 31 Major Championship Top 4's.
Team Europe includes 4-time Major Champion Daniele Celestino Acciari from Italy, 6-time Major Champion Jorian Engelbrektsson from Sweden, 2-time Major Finalist Julio Vicario Soriano from Spain, Marcus Hugosson from Sweden, Johannes Ostermeier from Germany, Johan Genberg from Sweden, Jan Anders Nilsson from Sweden and Benjamin Gräbeldinger from Germany. The 8 members of Team Europe 2018 have accounted for 10 Major Championships won along with 22 Major Championship Top 4's.
For more details on the event, click HERE.