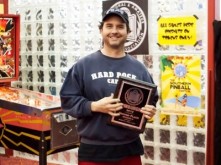 The IFPA is pleased to announce that our Player of the Year for 2017 is Trent Augenstein from Delaware, OH. Trent racked up an incredible 1425.50 WPPR points during 2017. Trent currently sits as the #6 ranked player in the world having moved himself up 6 spots from starting the year ranked #12.
Trent was the IFPA Player of the Month in March and November of 2017 having won 30 of the 96 tournaments he played in during 2017, while finishing in the top 4 in 56% of them.
Trent's highlights during 2017 included 1st place finishes at the Louisville Arcade Expo, 24 Hour Final Battle at The Sanctum, Ohio Pinball Show, OBX Fall Pinball Bash, Cactus Jacks Silverball Showdown, Bat City Open and Main Street Mayhem II. Trent also earned his 2nd career top 4 Major Championship finish having placed 4th at the PAPA20 World Pinball Championships A-division.
The IFPA wishes to congratulate Trent on all of his success throughout 2017. To celebrate Trent is playing in 7 different tournaments simultaneously RIGHT NOW.