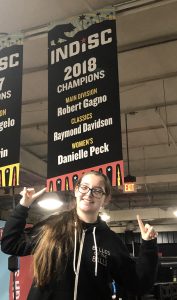 blog post courtesy of a very proud father 🙂
Danielle Peck has taken the title of the #1 Woman player in pinball!
This caps off a successful few years for the 16 year old from New Zealand, with the Womans titles from the 2017 Texas Pinball Festival and 2018 INDISC tournaments also under her belt.
Danielle's achievement is the latest in a great line of success for the younger competitors in pinball, with 16 year old Johannes Ostermeier from Germany ranked 5th in the overall rankings, Escher Lefkoff (then only 14) winning the 2017 PAPA World Championship, 16 year old Alexsander Kacmarczyk racking up many impressive results, and 16 year old Colin Urban taking home the 2019 INDISC Champion title.
IFPA is actively promoting the growth of pinball through our younger players, with many Youth tournaments around the world, and with our IFPA youth rankings for players under 18.