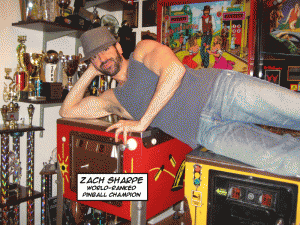 Elk Grove Village, IL – August 11, 2017 – Stern Pinball, Inc., the world's oldest and largest producer of arcade-quality pinball machines, announced today the hiring of Zach Sharpe as Director of Marketing. Zach will take on marketing accountabilities from recently promoted Jody Dankberg who will serve as the New Director of Licensing and New Business Development. Zach most recently worked as Senior Marketing Producer for world renowned marketing agency iris Worldwide where he excelled at integrated marketing, social media, community engagement, consumer marketing, and strategy development.
In addition to Zach's many professional accomplishments, Zach is a passionate pinball enthusiast who is currently the #1 ranked pinball player in the world. Zach has also extended his love of pinball by serving as Vice President of the International Flipper Pinball Association, and currently writing game reviews for Play Meter Magazine.
Zach will lead SPI in expanding its rapidly growing global business while focusing on extending the Stern entertainment experience within the consumer, commercial, and competitive player brand portfolio including pinball machines, merchandise, and accessories.
"With Jody focusing on growing our digital, private label, accessories, and merchandise portfolio while managing Stern's critical licensing partnerships, Zach will add a heightened level of customer engagement. This dynamic duo continues Stern's commitment to supporting our theme of Everything Pinball," said John Buscaglia, Chief Revenue Officer of Stern Pinball.