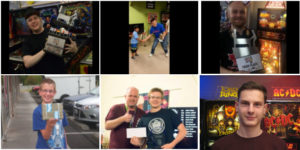 We've spent the last year and a half watching the WPPR decay take its toll on the world's top ranked players. 9 months of 2020 inactivity saw Raymond Davidson overtake Johannes Ostermeier for the World's #1 spot. Continued inactivity in 2021 saw Eric Stone jump into the World's #1 spot only to have Raymond Davidson recently jump back ahead of him.
With IFPA resuming sanctioning of events on August 1st, we will finally have a race to talk about! While the IFPA isn't holding any Championships for the 2020 season, we will continue to award our highest honor, "World's Greatest Pinball Player" to the player that finishes ranked #1 at the end of this season.
There's SIX players within 100 WPPR points of one another in this race for #1. If we factor in a fully decayed 2021 season, here is how things would end if none of these six players participated in any IFPA sanctioned events for the remainder of the season:
Raymond Davidson –> 606.13 WPPR points
Peter Andersen –> 586.80 WPPR points
Colin Urban –> 555.69 WPPR points
Eric Stone –> 547.04 WPPR points
Johannes Ostermeier –> 531.08 WPPR points
Escher Lefkoff –> 519.56 WPPR points
We expect all 6 of these players to get out there one way or another. With no Majors on the calendar for the remaining part of the 2021 season, it will be interesting to see how the chase for the top spot turns out! Best of luck to Raymond, Peter, Colin, Eric, Johannes and Escher!