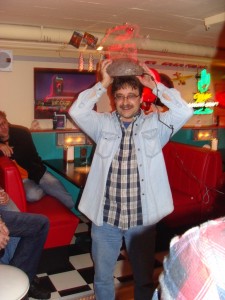 Back in early November the IFPA reported on the race for #2 in the World Pinball Player Rankings for 2011 between [player]Jorian Engelbrektsson[/player] and [player]Cayle George[/player]. As the year now comes to a close, it's looking like Jorian will finish slightly ahead of Cayle in the world rankings.
What we didn't see coming was Switzerland native [player]Robert Sutter[/player] exploding in the final 6 weeks of the season to overtake the #2 position! Robert participated in three tournaments within Switzerland since November finishing in 1st place twice and 2nd place once.
In addition to finishing #2 in the World Pinball Player
Rankings, the IFPA is proud to announce that Robert is the 2011 IFPA Player of the Year! This award is based solely on WPPR points earned during 2011, rather than the 3 year rolling period that the World Pinball Player Rankings are based on.
Congratulations to Robert for his spectacular 2011 season!