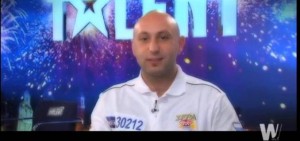 From Gioco News (translated to English):
The pinball is always sporting spectacle. And tonight even more, with the episode of the program Mediaset 'Italy's got Talent', aired in prime time on Channel 5, which will be among the competitors the two-time World Champion Daniele Acciari, engaged in a performance flipperistica with which it intends to win over the jury.
A success for the Italian sports pinball machine that sees its most illustrious player to finish in the early evening on one of the most popular TV shows of the moment.
Daniele's spot can be seen HERE.