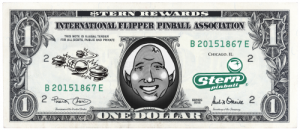 The IFPA is excited to announce that Stern has added Star Wars Pro and Premium models to the rewards program. A reminder that the 2016 rewards earned by players expire December 31st, 2017.
The following games are now available under the program: Wrestlemania Pro, Ghostbusters Premium, Aerosmith Premium, Star Wars Pro, Star Wars Premium
Detailed rules for the $tern Rewards Program, including an updated list of qualifiers, and updated list of rewards available can be found HERE.