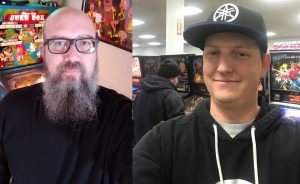 Interview conducted by Louis Marx from Garland, Texas
Louis runs the D/FW Pinball League based in Dallas, Texas; has been the twitch voice for several large scale IFPA events; and is part of the ownership group for BOS Pinball Lounge in Garland, Texas.
1. Get biographical info:
a. Where are you from originally?
Both originally from Lubbock.
b. How did you end up in Lubbock, Texas? (or stay)
T: worked and lived in Dallas, Amarillo, New Mexico but came back for family
D: never left because whole family is there
2. What's your oldest pinball memory?
T: mom & dad used to bowl in a league in the 80s. he and his sister would go and get $5 to play video games. Games like Pinbot, Black Knight and Bride of Pinbot
D: seeing old solid states in the arcade and walking by to go play a gun game. As a kid wasn't into pinball.
Follow-up: Fondest:
D: played getaway at a friend of my older brother's house. Bought that machine as my first PIN. Went crazy from there.
T: favorite is last summer took his 13 year old son to Cidercade in Dallas. Spent 8 hours (until they kicked out minors) just playing pinball.
3. Is this what brought you back to pinball as an adult?
D: same as fondest memory … then went to TPF and played more games there and figured out which one I liked So I knew what to buy.
T: Flippers Tavern did it for me. We didn't have any place to play in Lubbock and then this place opened with 5 machine. Brought the family and they were well kept machines and that started it.
4. When did you first get back into pinball (if you ever left)?
D: about 5 years
T: about 3 years
5. When did you get into competitive pinball?
T: 2015 at Flippers they were doing a quarterly tournament and we decided to check it out and did ok. Won a few after that.
D: Played in a tournament at TPF once but it was really the quarterly Flipper's tournaments.
6. What prompted you to start the first League in Lubbock?
D: actually had kind of a small non-sanctioned league that fell through because the wait staff couldn't keep up while they worked. We talked to one of the owners about running it ourselves. Having someone not on staff makes it smoother.
7. Was 2018 the first year? How did it go?
BOTH: This is the first year: so far its been going really well with 14-16 people at each tournament. It seems to be growing and we've had new people over the holiday. We have great support from Flippers Tavern which makes it easy. We walk in and they hand over the keys, donate prizes, have drink specials, etc.
8. Directing Pinball Tournaments can be a thankless job. Any regrets or second thoughts?
T: Not Yet
D: I don't think so. I enjoy it.
9. What's the craziest ruling you've had to make as a director?
BOTH: having really had a crazy one other than we have one machine that sometimes unplugs on its own due to a tech issue. That's happened twice in tournaments. We have a few people that rage and none of the machines are easy to tilt but nothing outrageous.
10. Have you ever had a participant get belligerent and have to be removed/disqualified from a tournament?
T: Not yet but we've had to comment to people about chilling out a little bit.
D: We usually address is at our players meeting.
11. How do you market your tournaments to bring in more participants? Do you have any secrets to share?
BOTH: We have machines and we know a lot of people that play in the area. Word of mouth. We have a Facebook page ane we market through there. We have flyers and we have a classic video game store that sponsors with prizes and they'll share our posts. A couple of tattoo shops put up our posters and we have posters here a Flippers.
12. How many participants did you have at your first event?
14 people
13. How many participants do you have at normal events now?
16 is about the average
14. How many would you like to see in the next 12 months? How about 5 years?
12 months: we'd like to be between 20 and 25.
5 years: right now its monthly tournaments so in 5 years I'd like to see more tournaments and leagues with more people.
15. What's the largest tournament you've run?
Last month, 16 people (Thanksgiving Weekend) – even then we had 8 people that wanted to come but couldn't make it. If people had been in town we could have been over 20 that weekend. We were missing several of our regulars.
16. Whether you make those numbers or not what do you think is realistic for Lubbock?
Both: I think we're here. 15 minimum for an average is sustainable. I think we can sustain this ongoing. There is a new place up in Amarillo that will be a barcade in Amarillo which is an hour and a half away. I think we'll see growth with some of their players coming here and our going there.
17. How different is it to run larger versus smaller tournaments for you? What stands out?
T: Some of the early tournaments they had (we weren't running) were smaller. I think with the larger group it's a little more competitive and more fun. Its also more stressful.
D: We didnt run the other ones (the small ones) but with the bigger crowds we are able to separate into divisions so the B class keeps the people that aren't winning coming back. It gives them a chance to compete at their level.
18. What is your preferred tournament format? Why?
T: I like the PinGolf but I don't like turning in the results to the IFPA because the scoring process is like Trigonometry.
D: Ladder style finals because its not a single quick elimination. You can qualify last and win your way through all the games into the finals. (T) In fact my son did that at the last tournament.
19. What haven't I asked that you feel the pinball community might want to know?
T: Get out and play – no matter what you skill level or age. Its fun competition people of all ages, sexes, shapes, and sizes. We get more from hanging out with the people than from tournament itself but it's the tournament that brings us together.
D: well I don't know what else to say. If its just to sum it up, you just have to keep playing, inviting friends, and keep it fun. I'd also like to recognize the people who support us: Flippers Tavern (location, prizes), Stern Army (prizes) and the IFPA, 806 Games in Lubbock, and Quick Roofing provides prizes for some of the players too.