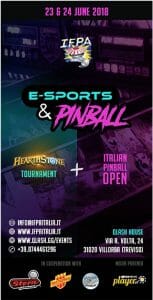 JUNE, 23-24, 2018 at the Luca Pagano's QLASH House
Villorba, Treviso – Pinball competition and eSports together for a unique show. It is set in Villorba, near Treviso, at the Luca Pagano's QLASH House: the headquarters of the QLASH Team and of eSports in Italy. An innovative and multimedia location that for the first time ever will host – alongside an eSports tournament dedicated to the Hearthstone videogame – a prestigious sports pinball competition such as the IPO – Italy Pinball Open: that is, the Italian pinball Championship.
The double event will take place in the weekend of June, 23-24, 2018 and in addition to proposing two major competitions in the respective areas of pinball machines and video games, wants to create a relationship between these two communities of players, through a third Virtual Pinball tournament, which will take place with the traditional rules used for the Ifpa sports pinball tournaments, but instead of playing on "normal" pinball machines, it will be played on virtual machines, using tablet terminals. For something completely new, promising battle between pinball machines and videogames players and that makes it impossible to identify the category that can be favorited in this challenge.
The event, organized by the Italian delegation of the International Flipper Pinball Association (Ifpa Italia)
together with Luca Pagano, is realized thanks to the cooperation of Tecnoplay and Double Pinball, official
suppliers of sports pinball machine in Italy, and with the support of Stern Pinball: the historical pinball
machines manufacturer, world leader in the market, which will provide the event its online Virtual Pinball
platform called Stern Pinball Arcade, where the virtual competition will take place. In addition to a series of
prizes and gadgets for winners and participants.
"We are proud and excited to host an event of this kind and to offer an absolute novelty on the
international entertainment stage", Luca Pagano, professional poker player, businessman and angel
investor, a real pioneer of eSports in Italy, explains. "We are sure that the interaction between these two
worlds of sports pinball and videogame will give fantastic results and we look forward to discover the real
effects. Certainly, we will have an event guided by fun and socialization: fundamental values for QLASH
Team and Ifpa, and that led us to organize an initiative of this kind".
From the point of view of sports pinball, the event plays a fundamental role in the Italian and international
ranking. In fact, in addition to electing the Italian Pinball Champion 2018, the main tournament is part of
the official Ifpa calendar and therefore valid for the Wppr ranking, but is also included in the calendar of
the 2018 ICS National Circuit, and on 2018 ECS European Circuit, being the fourth stage and the most
important one in terms of points. Registration is open from April, the 2nd, and the tournament is reserved
for 64 players.
All the information on the Italian Pinball Championship and on the event in general are available on:
www.ifpaitalia.it , www.qlash.gg and on the international website of the event: www.italianpinballopen.it