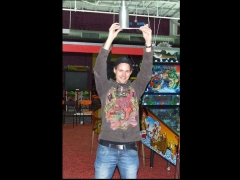 The IFPA is pleased to announce that our Player of the Month for September 2016 is 6-time Major Champion Jorian Engelbrektsson from Sweden. Jorian earned a total of 134.12 WPPR points in September. This included the following results:
Jorian is currently sitting in 2nd place in the 2016-17 ECS standings.
The rest of the top 5 for the month of August included Dave Stewart from Carnation, WA with 133.55 WPPR points, Raymond Davidson from Mukilteo, WA with 127.01 WPPR points, Robert Gagno from Burnaby, BC, Canada with 114.26 WPPR points, and Cesari Datri from Verona, Italy with 106.16 WPPR points.
Congratulations to Jorian and the other top WPPR point earners of the month!