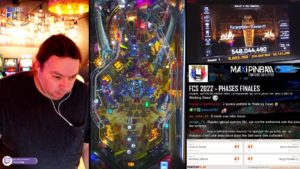 blog post courtesy of Archibald Lefevre
This is Sam, he died just after this last (superb) game of the last round of the qualifications of the FCS Finals…
It was our first National Championship Series finals, in which he participated discreetly in the organization.
Among his many passions, pinball has taken a more important place lately.
Also, he was now in charge of the "Paris Selfie League" which he had declared to IFPA for the first time the final scheduled next saturday and was going to participate in it's first EPC : he was destined to be our next (pertinent!) (co?)country Director.
His funeral will take place tomorrow in Paris at Père Lachaise.
Good Game Sam!