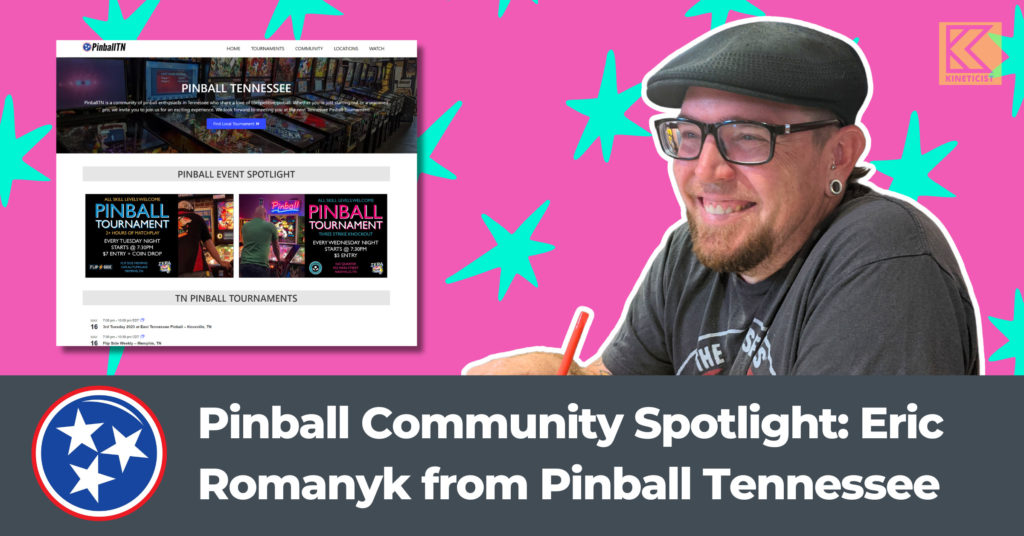 Welcome to another installment of the Kineticist Pinball Community highlight series!  
We're pleased to have a discussion today with Eric Romanyk from Pinball Tennessee. For those unfamiliar, the local pinball community there is actively working on a unique project. Their goal? To nurture and expand their local pinball scene by building a helpful digital hub for all things competitive pinball in Tennessee.
As part of this series and a few other projects we're involved in, we review many pinball websites. Pinball league sites, pinball tournament sites, manufacturer websites, and so much more. Many of the sites we come across, to put it nicely, are not good websites. Started with the best of intentions, no doubt, but lacking in content, structure, and design, and frequently not maintained with the latest information. 
This is why it was such a delight to discover PinballTN.com recently and to casually observe as they build out their site and digital community presence. 
Pinball Tennesee is more than just a website built and maintained by community member Eric Romanyk. It's the Pinball Tennesee social channels on Facebook, Instagram, and Twitter; it's their two Twitch streaming partners, Pinball Therapy and Broken Diode, it's the relationships they've built with their tournament locations and all the helpful content they create (like custom promotional graphics for all upcoming tournaments, or newbie friendly guides to competitive pinball), and it's the way they are highlighting the vibrancy of their local pinball community, helping new players navigate the scene, and giving veteran players a reason to stay engaged.
This is not the easiest way to do this kind of work. Building websites and creating helpful content is hard. It's far easier to piece together things like Facebook groups and Discord channels. But if done correctly, having a centralized go-to resource that's available outside walled-garden networks is invaluable to community growth efforts. It ensures valuable knowledge and information aren't lost in an algorithm or to the whims of a moderator. This is to say, PinballTN's model is one we'd like to see replicated elsewhere. And we hope by highlighting their efforts here, we can inspire some folks in the community to re-create the approach within their own communities. 
A note on this particular interview, while we will be chatting with Eric, who is spearheading the effort, PinballTN is very much a community project. As mentioned above, there are a lot of people involved with various aspects behind the scenes. 
Let's dive in! 
Kineticist: What's your pinball origin story? How did you get into the hobby?
Eric: I love reading origin stories, so here's mine….I found Banzai Run at our local mall arcade as a 10-year-old kid and was immediately hooked. It wasn't my first time playing pinball, but that was the game that truly started my addiction. Fast forwarding to my late teens and early 20s, I was fortunate enough to have a massive arcade called Grand Prix that was open 24 hours with 20+ pinball machines. My friend and I would regularly spend the midnight hours playing The Addams Family and Theatre of Magic before heading home as the sun came up. That friend is now my wife…was it the magic of pinball, maybe? 
Kineticist: Tell us about the origins of PinballTN.com. When did you launch it? What inspired you to create it? What was your initial vision, and how has that evolved as you've built it out?
Eric: PinballTN has only been online since mid-January 2023, so it's just a baby. I had recently discovered competitive pinball last year, but it was one of the moments in life when you immediately know you are exactly where you're supposed to be.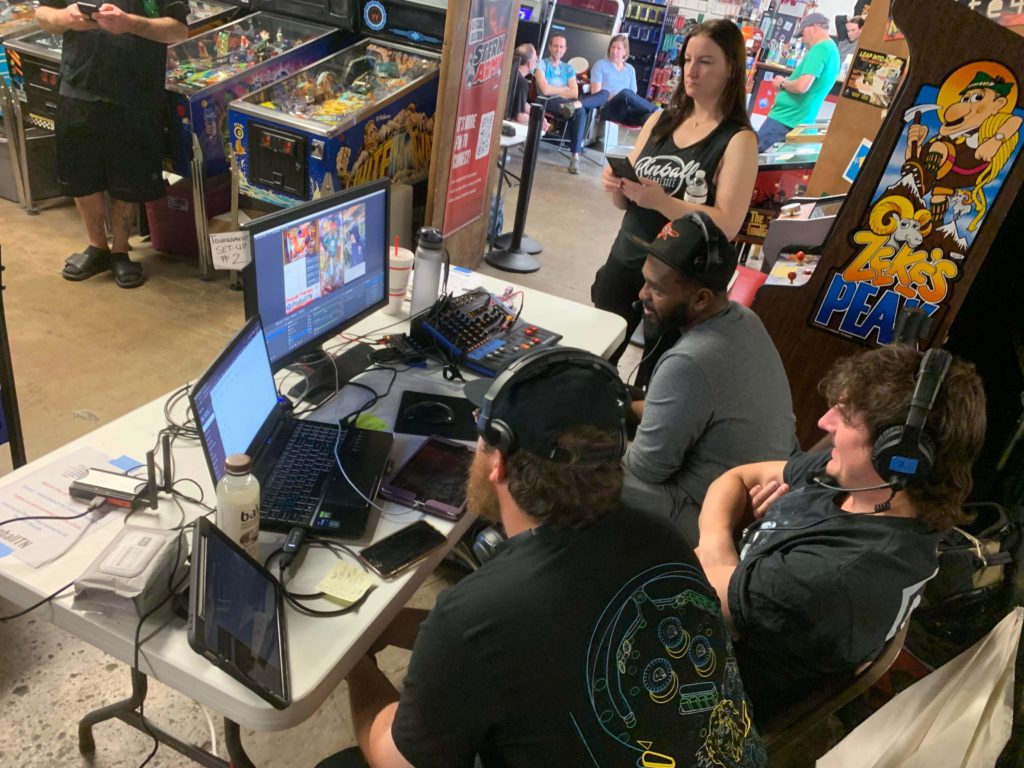 The local pinball community's excitement, friendly atmosphere, and genuine enthusiasm for the game was infectious. I wanted to do more than just play. I needed to be a part of it in a bigger way and wanted others to have an opportunity to feel the same joy. So when Brian Oliver at Pinball Therapy asked our Tennessee Competitive Pinball Facebook Group about getting a statewide website set up, I jumped on the opportunity immediately. 
Our initial vision was like, "Hey, let's have a calendar, a rankings page, and list the tournament locations." It quickly snowballed with the addition of profiles on all the major social media sites, because why not. Then it was, "It'd be cool if we had a guide for new players." So you can see how a community with a simple idea can start to grow and take on a life of its own.
I really have to say that we were heavily inspired by District 82 and FoxCitiesPinball. They created a great blueprint on how to effectively promote competitive pinball tournaments and streams.
Kineticist: Why build out a website over other potentially easier solutions like doubling down on Facebook groups or starting a Discord server?
Eric: I like Facebook Groups; in fact, that was the gateway to my first tournament. We already have an awesome group for Tennessee that's been growing since 2017. But Facebook has limitations that a website doesn't. 
Posts on social media typically have a short lifespan before being buried by newer content. So it's great for quickly disseminating current information, but it's really not the place to write long-form articles like interviews, new player guides, or tournament strategy. Beyond that, there are people who just don't use social media or only use Instagram or Twitter, etc. 
Discord has many of the same issues, and they are compounded by the fact there's no real search, meaning that you can't join a community server unless you already know it exists and someone has shared an invite link with you.
So basically, a website made sense as a hub to showcase the existing promotional efforts and to add some new ones.
Kineticist: What are some parts of the project that have been easier or harder than you anticipated?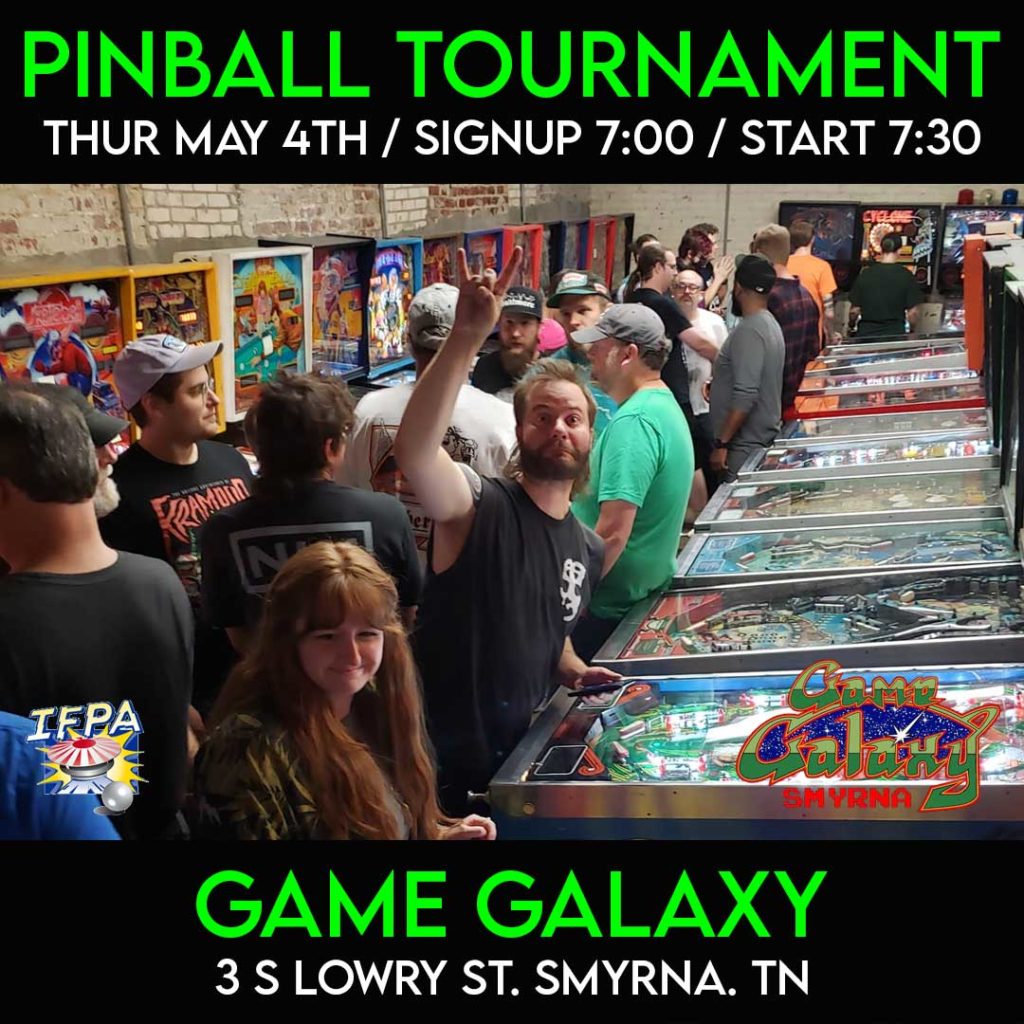 Eric: Honestly, the hardest part was creating repeatable processes like reusable graphics templates for event promotions. With a typical week having 5 or more events, it can get really time-consuming to try and create unique promo materials for each of them.
Kineticist: Can you give us a rundown of all the folks involved in this effort? 
Eric: It's a massive list because this is only possible with the participation of the entire community. I'm just a small piece in a much bigger puzzle.
Beginning with arcade owners and operators like Jason Wilson (Game Galaxy), David Yopp (Flip Side Memphis), Seth Steele (No Quarter) and Chris Royalty (Eastside Bowl / Hot Rod Arcade), along with the Chattanooga crew (Classic Arcade Pinball Museum) and Knoxville Players (East Tennessee Pinball and Token Game Tavern), who provide places to play pinball.
The technical wizards that maintain the machines we play on.
The tournament organizers and directors who work hard creating and managing the events that we have so much fun playing in. 
The live streamers like Pinball Therapy and Broken Diode Pinball, who I believe are crucial in promoting pinball to the next generation. 
Everyone that jumps in to help host the streams and makes them fun to watch.
And last but certainly not least is the players who come out to every tournament and support the local venues. Without the players, none of this is possible. It really takes everyone to build a community. 
Kineticist: What can pinball players in the Tennessee area do to help you and the site?
Eric: The easiest way for anyone to contribute is to follow us on your favorite social media, click the like button, drop us a comment. 
Share your feedback with us. What do you like, what don't you like, or what are we missing that you really want to see? Engage with the community on our Facebook Group too. 
Watch and follow the live streams on Twitch. Cut a clip of yourself playing pinball or an exciting moment and share it with the world.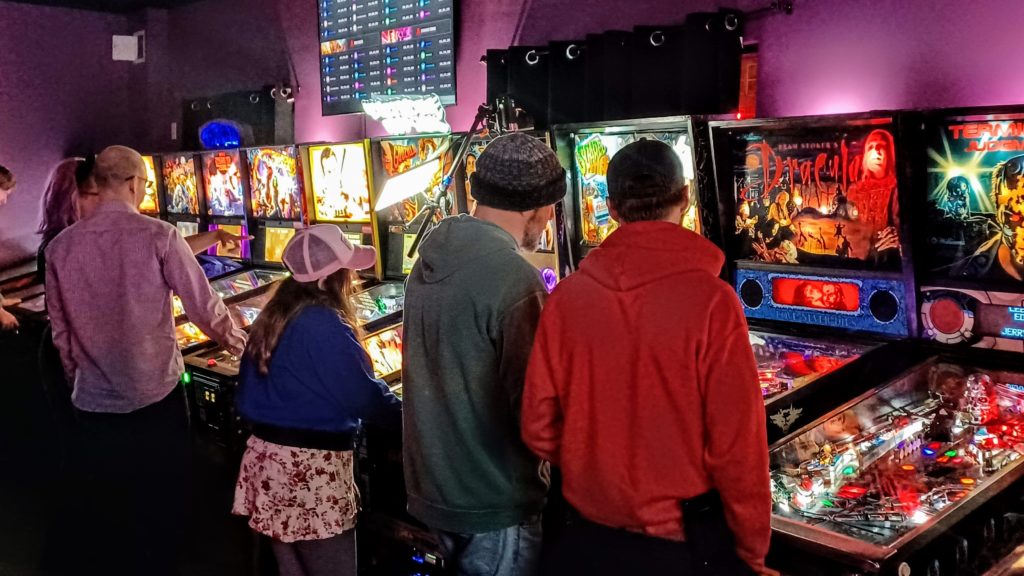 Most importantly, keep coming to the tournaments and supporting the local scene. Bring a friend along with you and introduce them to the game. 
If there's something you'd like to contribute beyond that, just reach out. We are easy to find and would love to get you involved.
Kineticist: Is there anything surprising or interesting you've learned about the competitive pinball community while working on this project?
Eric: I was most surprised with how welcoming and helpful the entire competitive pinball community is, not just within Tennessee. 
I'm finding new and interesting things every day. It's so exciting with all the ways you are shining the spotlight on different aspects of pinball at Kineticist and with the new Pinball Jobs website that will help bring talented people together. 
I'm also really inspired by the New England Pinball League, which happens to be the league you play in. It's such a cool concept that an entire region is being brought together for competition. Very cool stuff.
Kineticist: Are you able to tell how newer players are responding to your efforts? Any insights for other local tournament organizers who are interested in growing their local scene?
Eric: It's hard to tell right now; I feel like we are just getting started. I do know that people in the community are happy with what we're doing so far. There's more plans for local promotion to attract new players currently in the works. 
Insights to growing a scene? Don't get discouraged. Just keep plugging away. Somedays it feels like no one is watching, but they are.
Kineticist: What's your favorite pinball tournament format to play in, and why?
Eric: Oh, Knockout for sure. It feels like the stakes are high, knowing your night can end quickly. There's a lot of pressure to do well in each game, but you also don't always have to post the best score.
Kineticist: Which pinball tournament format is the best for new players?
Eric: I'd probably say Group Matchplay because no matter how well you're playing, you get at least 8 rounds or a few hours of pinball. It's a great low-pressure way for new players to learn the rules of tournament pinball.
Kineticist: If someone was visiting Tennessee and wanted to experience the best pinball in the area, what are three locations you'd recommend?
Eric: Game Galaxy in Smyrna, TN, just outside Nashville, is at the top of my list. They have 175 pinball machines currently with all the popular modern games from Stern, Jersey Jack, Spooky and Pinball Brothers. There's also lots of classic Williams and Bally machines, plus many of them are rare and hard to find. There's also another 300+ arcade and console games. It's a day pass one-price admission with everything set on free play, so it's a great place to work on your flipper skills or learn games you're not familiar with. Game Galaxy hosts a weekly matchplay tournament on Thursday nights. Plus the Hours of Fun tournament series which is running on a quarterly schedule. The main event is graded at 200% TGP and brings in players from across Tennessee and neighboring states.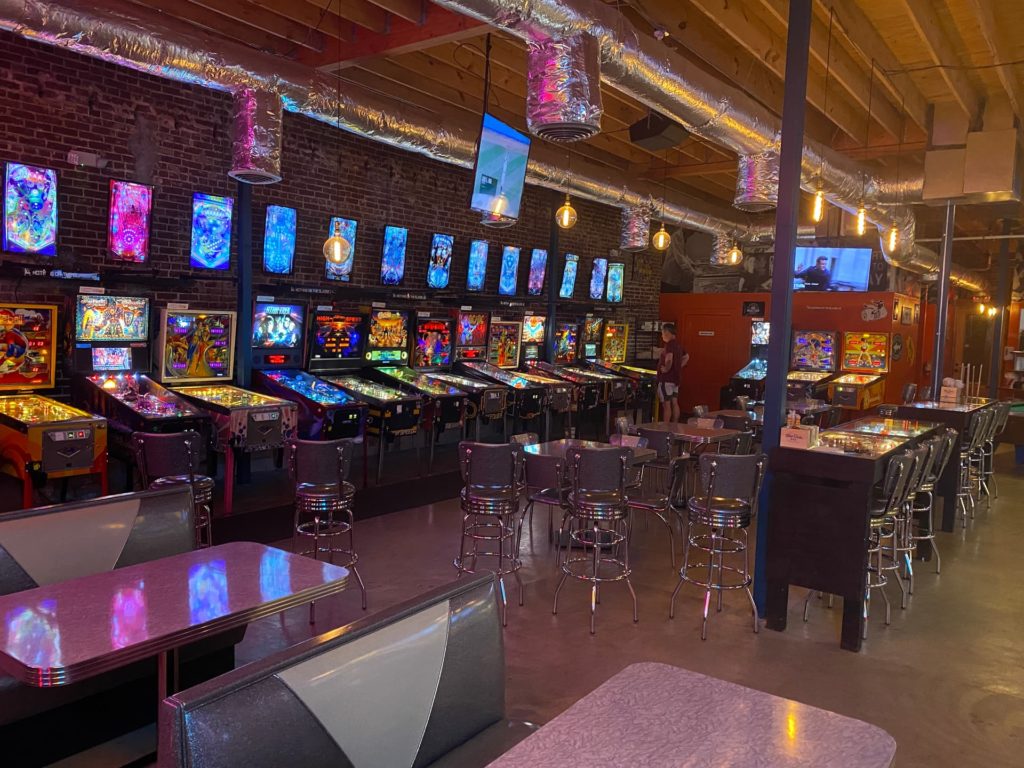 Flip Side in Memphis, TN, is doing some awesome stuff. There's 16 machines with a nice mix of moderns and classic games that are meticulously well-maintained. Each game is being streamed to a TV mounted above it. So no more looking over someone's shoulder. You can sit back and relax with a drink while taking in all the action. Flip Side holds a weekly tournament on Tuesday nights, with the format varying between Matchplay and Knockout. Additionally, they have also been hosting a Sunday Shenanigans tournament bi-monthly, which allows a wider group of players from around the state to attend.
No Quarter in Nashville, TN, is a second home for Music City pinball players. A laid-back local bar vibe with 24 pinball machines. A solid mix of popular titles from across all eras of pinball history. Games are rotated in and out regularly, so there's always something new and fresh to play. No Quarter hosts weekly knockout tournaments on Wednesday nights that regularly brings in 40-50 or more competitors.
Kineticist: Pretend it's 2033; what does the pinball scene (and PinballTN.com) look like?
Eric: Wow, I have a hard time planning what I'm going to eat for dinner, but I'll give it a go. 
I see Tennessee becoming a hotspot for pinball in the southern US with major tournaments that give the most WPPR points possible and attract high-level players. We have travel destination cities like Nashville and Memphis. Those cities already have great pinball arcades. Our community is enthusiastic and dedicated to making this happen.
PinballTN will continue to grow, hopefully into a resource for all competitive pinball players with informational content that can benefit the larger community outside our state.
Kineticist: What have we not asked yet that you would like the pinball community to know about you or your work? How can the larger pinball community help your efforts?
Eric: For the larger pinball community, check out our social media pages, drop us a line, let us know what you're doing in your communities. I love seeing what's happening in pinball around the globe. If you find yourself in or around Tennessee, check out one of our tournaments. Having fun playing pinball comes first and competition second, so I promise you'll have a good time.
If you enjoy writing about competitive pinball, hit us up, and we can give you a platform to share your thoughts with the world.
Kineticist: Plug your stuff! Where can folks find you (socials, website, etc.)? Is anything exciting on your radar for the rest of the year?
Eric: You can find us at PinballTN.com and interact with our Facebook Community. We have a Facebook page, Instagram, and Twitter too. You can also keep up with all the pinball action in Tennessee by following our streamers, Broken Diode Pinball and Pinball Therapy, on Twitch.
There's lots to be excited about this year. 
Coming up really soon is Flip Side's XL Weekend on June 9th-11th, 2023. Beginning with a knockout warm-up on Friday, followed by a 160% TGP matchplay on Saturday, and finishing up with Sunday Shenanigans 144% TGP matchplay tournament.
We have another 200% TGP tournament on the horizon, Hours of Fun III: Sweatin' to the Oldies will be a classics-only matchplay main event plus knockout warm-up and weekly matchplay on July 27th-29th at Game Galaxy in Smyrna, TN. 
There is also the annual Music City Multicon just outside Nashville in Lebanon, TN, which hosts the Grand OGRE tournament series. The three-day event will be held on October 27th-29th and includes a knockout, group matchplay, and target matchplay tournaments.  
For more updates from Kineticist, be sure to visit kineticist.co or follow us on Instagram, Facebook, and Twitter. Interested in being featured in a future interview? Drop us a line at colin@kineticist.co.