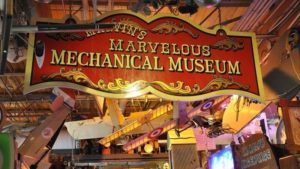 "Wouldn't the world be better off if we took nonsense more seriously?"
These are the words of the late Marvin Yagoda, who (Using this philosophy) set out to create the largest collection or animatronic machines and staright up wacky things. Being founded in the early 80's in the (now defunct) Tally Hall in Farmington Hills Michigan, Marvin's Marvelous Mechanical Museum not only stands as a monument to all things silly and goofy, but as a testament to Yagoda's philosophy. This treasure has served the people of Farmington Hills, as well as visitors from around the world, since it's conception, and today this iconic museum faces demolition. They want to build a new Meijer's store in place of Marvin's, and that would be quite the mistake.  Marvin's is survived by Marvin's son, Jeremy Yagoda, who oversees all operations. Coupled with newfound popularity from the 2000's indie band "Tally Hall", Marvin's has its fair share of fans everywhere who would be devastated to see the building be torn down. If you want to do more than sign a petition, you can attend the Farmington Hills City Council Chambers meeting on 11/16/2023 and show your support for marvin's and your disdain for a new Meijer's. Now is the time to act before we lose this eighth wonder of the world.
Click HERE to view the petition.