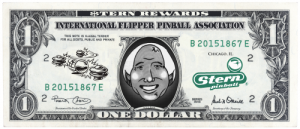 The IFPA is excited to announce that the following players have been now qualified for the $tern Rewards Program based on their October 2014 IFPA endorsed tournament performance! These players have until August 15th, 2015 to exercise their reward option.
BIGGEST MOVER AWARD – [player]Emma Jacobsen[/player]
BIGGEST MOVER AWARD – [player]Matt Peace[/player]
BIGGEST MOVER AWARD – [player]Marcus McKenzie[/player]
The $tern Rewards Program rewards dedicated players by providing them with the opportunity to use their rewards to purchase new Stern Premium games and other Stern merchandise at special IFPA prices.
In addition to AC/DC Premium, both Star Trek Premium and Metallic Monster Premium have been added to the lineup of eligible games available for purchase under the program. All games purchased through the $tern Rewards Program will include a custom certificate and t-shirt exclusive to the program.
Qualifying participants will also be eligible for discounts at the Stern online store which features a wide range of Stern and $tern Rewards Program merchandise exclusive to the IFPA rewards program.
Pinball players around the world can qualify for the program by participating and performing in IFPA-sanctioned pinball events. Top-ranked players, most-improved players, and player-of-the-month earn rewards points in the annual program.
The eligibility requirements for 2014 have been expanded to include players that finish in the top 1000 of the IFPA's World Pinball Player Rankings at the end of the calendar year.
To learn more about the $tern Rewards Program, visit the IFPA website at www.ifpapinball.com/SternRewardsProgram