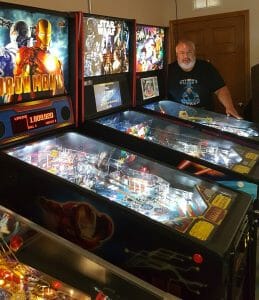 In September 2017, Mike Burgess out of Fort Wayne, Indiana moved himself 11,581 spots up the World Pinball Player Rankings. This earned him a "Biggest Mover" award and qualified him for the $tern Rewards Program. The rewards program allows qualifiers to purchase a brand new Stern pinball machine at a special IFPA price. Mike redeemed his reward for a Batman 66 Premium.
Since September ended, Mike has played in 5 more events in 2017, moving himself up from 7942nd to 5394th in the world.
Congratulations to Mike, and remember if you're interested in qualifying for the $tern Rewards Program, check out the rules here. A reminder for anyone with a 2016 reward, you have 3 more weeks to redeem it before it expires.