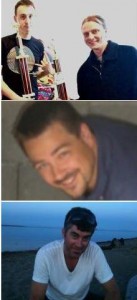 The IFPA is pleased to announce that the following players saw the biggest jump in their world ranking based on their March 2014 tournament performance.
The biggest movers for March 2014 included [player]Myles Murray[/player] from Cleveland, OH, who moved up 13,194 spots by finishing in 2nd and 16th place in the IFPA Python Fundraiser – Cleveland Tournament Main and Classics divisions respectively. This netted Myles 16.30 WPPR points and moved him up to a rank of 2033rd in the world, as well as 29th in the Ohio SCS.
[player]Bernhard Binder[/player] from Austria moved up 8801 spots from his 221nd and 156th place finishes in the Main and Classics tournaments at the 2014 European Pinball Championship. Bernhard earned 2.28 WPPR points from this performance and moved him up to a rank of 5640th in the world.
[player]Ian Lang[/player] from Delta, BC moved up 8266 spots from his 8th place finish at the IFPA Oursler Fundraiser in Vancouver, along with 5th, 43rd and 3rd place finishes at the Whopper Wednesday tournaments held during March. Ian earned a total of 5.08 WPPR points from these performances, which moved him into now being the 3406th ranked player in the world. Ian also currently sits in 24th place in the British Columbia PCS standings.
Congratulations to Myles, Bernhard and Ian, as well as the other players that saw a jump in their ranking from their March tournament performance!