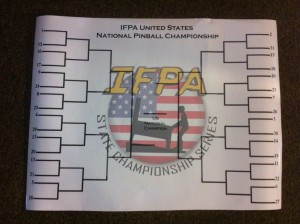 The culmination of the first IFPA State Championship Series is just over 6 weeks away. It will end with the crowning of our first ever IFPA US National Pinball Champion. The National Championship is going to be held at Lyons Classic Pinball out in Lyons, CO on Sunday May 18th with players not only battling for the National Pinball Champion title, but also $2800 in cash.
As of this moment there are 27 players confirmed competing, which means that the top 5 seeds in the tournament will receive a first round bye. Assuming everyone that plans on competing shows up for the championship, here is how the bracket will shape up:
First round byes –> (1)Keith Elwin-CA, (2)Joshua Henderson-IL, (3)Bowen Kerins-MA, (4)Andy Rosa-MI, (5)Bob Matthews-AZ
(6)Jason Werdrick-WI vs. (27)Mark Kiefert-GA
(7)Steve Zahler-NJ vs. (26)Drew Cedolia-NC
(8)Cryss Stephens-PA vs. (25)Eric Shaffer-LA
(9)Derek Fugate-KY vs. (24)Brett Emerson-OK
(10)Sean Grant-NY vs. (23)Joe Schober-VA
(11)Joe Said-MD vs. (22)Todd Rafacz-TX
(12)Kevin Birrell-WA vs. (21)Timothy Street-AL
(13)Paul Madison-MN vs. (20)Atticus Palmer-FL
(14)Adam McKinnie-MO vs. (19)Jason Scheffelmaer-KS
(15)Rod Lawrence-OH vs. (18)Walt Wood-CO
(16)Phil Grimaldi-IN vs. (17)Zoe Vrabel-OR
Players will battle in head-to-head best of 7 matches until only one remains. Congratulations ahead of time to the competitors for having performed well enough at the State level to earn the right to compete for the National Championship title.