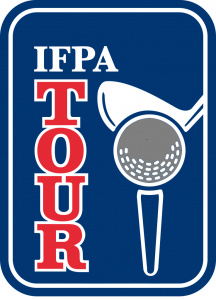 The IFPA is excited to announce the official launch of the 2018 IFPA Pin-Golf Tour!
Every Spring we host the IFPA Pin-Masters: World Pin-Golf Championships in conjunction with the Amusement Expo. New for this upcoming season, we will be offering tournament directors a chance to join the IFPA Pin-Golf Tour by hosting an official IFPA Pin-Masters Satellite Tournament. Every winner of a 2018 IFPA Pin-Masters Satellite Tournament will earn the right to 50% off their registration fee into the 2019 IFPA Pin-Masters ($50 value).
For tournament directors looking to get their event included on the IFPA Pin-Golf Tour, here are the requirements:
Event must have at least 32 participants
Event must consist of at least one 9-hole qualifying round
Event must use the IFPA Pin-Masters format structure, ruleset and scoring system (available HERE), including the following items:

Games set to 5-ball play, using the max 10 stroke scoring system
Event must advance 16 players to finals
Finals format must be PAPA style, 3 holes per round
Please contact the IFPA for any questions at ifpapinball@gmail.com. A list of registered satellite events will be listed on the IFPA Pin-Masters page throughout the year (HERE).