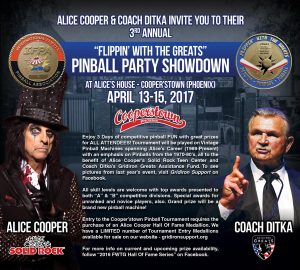 Just announced, Alice Cooper's Solid Rock, Coach Ditka's Gridiron Greats, and Cooper'stown have made available a small number of entries to their fans.
Any Pinball, Football, or Rock and Roll Fans interested in participating in theCooper'stown Pinball Party, just follow the links!
https://www.gridironsupport.org/shop/cooperstown-pinball- showdown-entry- medallion-limited/
There will be great prizes (including a new Pinball Machine!) available, with awesome swag for all! And certainly a few SURPRISES!
Details available HERE – https://www.gridironsupport.org/pinball-party-showdown/
Comments Closed