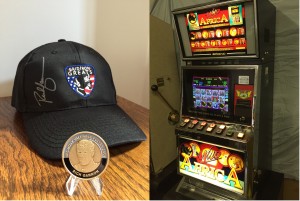 The Flippin' With the Greats Fantasy League opened the NFL Giveaway season with Jon Drew winning the Alice Cooper/Mike Ditka matched medallion "Proof" set. Also included in Jon's prize package was a 2015 Alice Cooper "Solid Rock" / Coach Ditka "Gridiron Greats" FWTG hat, AND an entry to Alice Cooper'stown's 2nd Annual Pinball Showdown in January, to compete for a Brand New Pinball and other great prizes!
Just a reminder, we will be awarding 20 total Cooper'stown's final pinball party tournament entries to the FWTG Fantasy League participants throughout the NFL season.
Our up-coming week's drawing prize package will be a Rich Gannon autographed hat coupled with a rare Gridiron Greats 2 color Rich Gannon Medallion ("proof" strike).
The drawing for this Rich Gannon set will be Tues, Nov 10th (8pm CST).
Also, Please Note, on Tues, Nov 17th, we will be giving away our First "BIG" Prize (literally!), a vintage "Wild Africa" Slot Machine!
Remember, All current Fantasy League members will be eligible to win this Slot Machine, as well as all future Valuable Prizes including a FIREPOWER 2 PINBALL!
See the complete list of prizes at FWTG "League Overview".
Currently, we have 22 Fantasy League members on the roster with room for more…So Join the action and win Big!
As noted, winners of large items will be responsible for any shipping charges (we will help line up a wholesale freight carrier), or the machine can be picked up in the Minneapolis area.
As an alternative prize, Gridiron Support is offering a set of 5 GGAF Medallions with matching numbers, if the winner declines the slot machine as their prize.