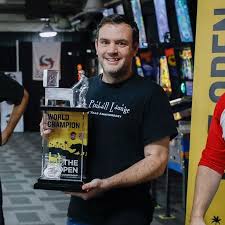 The IFPA is pleased to announce that our Player of the Year for 2020 is Eric Stone from Fort Myers, FL. In the shortened 2020 season, Eric was still able to rack up an incredible 458.24 WPPR points during 2020 (which would put him in the top 50 in the world based on ONLY these 3 months of play). Eric currently sits as the #2 ranked player in the world having moved up from the #12 ranking at the start of the year.
Eric played in 10 events during the 2020 season, winning 6 of them, while finishing in the top 4 in 7 of them. Eric also finished as the IFPA Player of the Month for January 2020.
Eric's highlights during 2020 included his first Major Championship title, taking 1st place at The Open – IFPA World Championship back in January. He also won the Classics II division at INDISC while finishing in 2nd place in the Classics I division.
The IFPA wishes to congratulate Eric on all of his success throughout this shortened 2020 season!