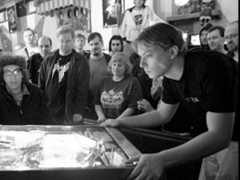 The IFPA is pleased to announce that our Player of the Month for February 2012 is current World Pinball Champion, [player]Cayle George[/player] from Seattle, WA. Cayle earned 55.83 WPPR points in February, finishing in 3rd place at the Pinbrew Tournament, along with a 3rd place and 2nd place finish at the Rose City Showdown in the Main Tournament and Classics Tournament respectively.
The rest of the top 5 for the month of February included Jörgen Holm from Sweden with 53.52 WPPR points, [player]Michel Dailly[/player] of France with 49.51 WPPR points, [player]Robert Gagno[/player] of Canada with 48.00 WPPR points, and [player]Aaron Nelson[/player] of the US with 47.26 WPPR points.
Congratulations to Cayle and the other top WPPR point earners of the month!