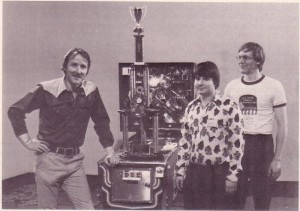 The first tournament in the IFPA database is from the 1980 US Open National Pinball Championship. Featuring over $10,000 in prizes, Dallas Overturf was crowned the first National Pinball Champion taking home $6500. 11 years later in 1991, Dallas earned himself a top 4 finish at the 1st IFPA World Pinball Championship. This page is created to celebrate the memory of Dallas, one of the earliest competitive pinball pioneers.
Words below courtesy of Sarah Lindsay (sister of Dallas):
Dallas Overtuf, The Pinball Wizard
Dallas started playing pinball when he was only about ten years old. He first discovered pinball machines in bowling alleys and hobby shops and before long he could play all day on a quarter. He liked to hang out with the guys who owned and fixed the machines at these sites, and soon learned how to fix pinball machines, too. Throughout his life, Dallas was a free and willing resource for anyone needing help with a machine, whether it was help playing them or fixing them.
As a teen he bought his first pinball machine, Stern's "Pinball" made in 1977.  He acquired many machines as time went on, and at one point had over a hundred of them at our family home. He just plain loved pinball machines in almost any condition.
Dallas enjoyed tournaments as much for the people as he did for the games. He often played at Fun and Games in Framingham, MA, and at Funspot in New Hampshire, but his favorite big trip for many years was to Pinball Expo in Chicago. He won many local tournaments, whether the prize was a machine, cash, or just bragging rights. He especially enjoyed making up casual tournaments on the spot with his friends, where they could make special rules such as having only backhand shots count for certain targets. Dallas always loved a challenge, and always loved meeting new players… even the ones who could beat him.
While health issues were always a part of Dallas's life, they began to interfere with his playing not long after he won the first officially recorded US National Championship in 1980, the tournament that made him famous as "The Pinball Wizard" in Ashland, Massachusetts, his lifelong home town. He played less, repaired more, and still went to tournaments to enjoy the games, the vendor items, and the people. For his last years, Dallas wasn't really able to play, but he always enjoyed seeing or hearing from the pinball community from all over the world. Each of us was important to him, and he genuinely loved us all.