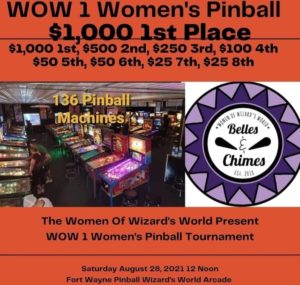 Trisha Burgess (Mrs. Wizard) says, "We're so excited to offer our first large tournament open to all the women pinball players". We are looking forward to this being an annual tourney that will bring in women from across our nation who enjoy playing pinball as much as we do in Fort Wayne, Indiana. Our monthly tournaments are so enjoyable. Everyone is excited and very competitive, yet quick to help one another learn about the different pinball machines and just get better at playing the sport – not to mention all the snacks that show up on game night!" Participation in weekly women's tournaments has grown with both consistent and new players to the point that the Wizard (Mike Burgess) has committed to holding the first annual WOW 1 – Women's Only Pinball Tournament. Mrs. Wizard continued saying, "And, with our Stage 1 remodeling project complete, Wizard's World Arcade now has 136 new and refurbished pinball machines ready for play with ample space to move from game to game. We enjoy great fellowship with local women and others from multiple states and possibly even Canada. Our goal is to make this one of the largest ever women only tournaments."
Wizard Mike Burgess said, "We recently had a three generation family come to play for a while during Huntertown Days and stayed for over two hours! That's a really good indication that our effort to create a family oriented atmosphere is working. And to finally host a women's night out is really a special way of giving back to the real strength of our community." Burgess went on to say, "Knowing what the women of Wizard's World have done to strengthen our foundation and certainly add suggestions for improvements, I just couldn't help but to load up the prize money for this inaugural event. With over $2,000 in total purse prizes, including $1,000 for the first place winner, WOW1 now rivals major tournaments we've held to date and certainly has potential to grow from here."
International Flipper Pinball Association points will be awarded for this six-round match play event beginning at noon Saturday, August 28, 2021. Doors open at 11:00 for registration and practice. There will be three games per round, coin drop is required and the Match Play tiebreaker system will be used to break ties for prize money. Players may register and pay the $50 entry fee click the following PayPal link:
All entry fees will be dispersed in prize money with the top eight places paid: 1st place – $1,000, 2nd place – $500, 3rd place – $250, 4th place – $100, 5th & 6th places- $50 each, and 7th & 8th places- $25 each.
Summer hours are now permanent!
Monday 12 Noon – 11pm
Tues, Wed, Thurs 12 Noon – 9pm
Friday & Saturday 12 Noon – 10pm
Sunday 1pm – 9pm
Upcoming Stern Army launch parties include:
Led Zeppelin LE, The Mandalorian Pro, The Mandalorian LE, GNR LE, Halloween CE
Open tournaments every Monday at 7pm.
Women and Youth tournaments typically the 2nd & 4th Friday each month (check the IFPA schedule).
Find a listing of current machines here:
Although built for championship level competition, the family oriented atmosphere of Wizard's World is becoming a destination location for private parties, including birthdays, employee recognition, and church youth groups just to name a few. Come join the fun at: Wizard's World Arcade, 14613 Lima Road in Huntertown.