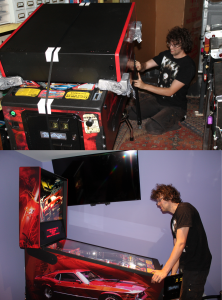 As part of Robert Gagno's dominating victories at both the IFPA US National Pinball Championship and the IFPA Pin-Masters, Robert won the Grand Prize from the 2014 Flippin' With the Greats campaign. His selection was a brand new Stern Mustang pinball machine.
Special thanks to Gridiron Support, Peters Billiards and Stern Pinball for helping us raise money for Coach Ditka's Gridiron Greats Assistance Fund.
Plans are in the works for another FWTG campaign for 2015. As the football season approaches we'll be announcing those details on our site, so stay tuned.