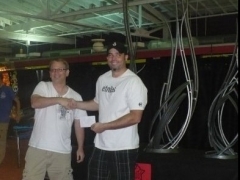 While Tiger Woods and his 14 Major Championships continues to hunt down Jack Nicklaus' record 18 Major Championships in the world of golf, Keith Elwin continues to raise the bar on competitive pinball Major Championship victories that will surely be something that is chased for decades to come.
Keith captured his record 8th Major Championship with a victory at the PAPA 18 World Pinball Championships. Keith also has the record for the most top 4 finishes in Major Championships, expanding that total to 13. Fellow PAPA 18 finalista Bowen Kerins increased his top 4 finishes in Major Championships to 11, while Raymond Davidson and Adam Lefkoff entered the record books with their first top 4 Major Championship finish.
To view the most current list of Major Championship stats, click HERE.