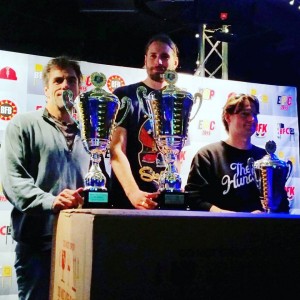 (photo courtesy of Penni Epstein)
The legacy for current World #1 Jorian Engelbrektsson grew even greater this weekend, as he became the 3rd player in competitive pinball history to capture his 5th Major Championship (Bowen Kerins also has 5, while Keith Elwin has 8). With respect to the European Pinball Championship, Jorian became the first 3-time winner in tournament history. For Jorian, this was also his 10th top 4 finish at a Major, putting him into an elite club with both Elwin(14) and Kerins(11), along with fellow EPC 2015 finalist Lyman Sheats.
Speaking of Lyman Sheats, while he fell just short of capturing his 5th Major Championship, his legacy as one of the greatest to ever play this game also grew this weekend. He was able to reach the podium for the 12th time in his Major Championship career, marking a great return for Sheats who last placed in the top 4 back in 2008 with a 3rd place finish at PAPA 11.
With his 3rd place finish Paul Jongma expanded his top 4 finishes in Major Championships to 4, while Jochen Ludwig entered entered the record books with his first top 4 Major Championship finish (the 77th player to do so).
To view the most current list of Major Championship stats, click HERE.