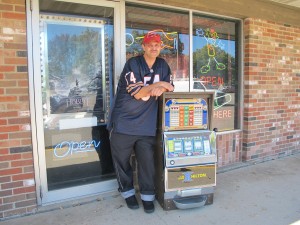 Once again the FWTG winning player came from the NFC North, with Dave Gorka (representing the Bears) taking home this classic Las Vegas Hilton Slot Machine.
The next Prize to be awarded will be a Pinball Machine, so join the FWTG League today to get in on the action!
Again, we are pleased to announce that the FWTG Tournament Series will be expanded beyond the 32 NFL team markets. Any city in the world can host a " Coach Ditka Wild Card" FWTG charity fundraiser tournament. The winner of each "Wild Card" Tournament will also be awarded an Invitation / Entry to the Grand Final Event.