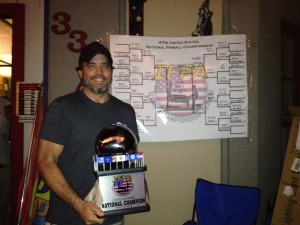 Every sport has had legendary rivalries: Bird-Magic in basketball, Palmer-Nicklaus in golf, Ali-Frasier in boxing.
In pinball we have Elwin-Kerins. These two sit at the top of the pinball world, having 12 Major Championship victories between them (Elwin-7, Kerins-5). Rarely do these two giants get to face off head-to-head, but with Elwin emerging as the California State Champion and Kerins emerging as the Massachusetts State Champion, they entered the first IFPA US National Championship as the #1 and #2 seeds.
After defeating Walt Wood (CO) 4-2, Sean Grant (NY) 4-2 and Paul Madison (MN) 4-1, Keith Elwin punched his ticket to the finals. Bowen Kerins defeated Jason Scheffelmaer (KS) 4-0, Cryss Stephens (PA) 4-3 and Andy Rosa (MI) 4-0 to punch his ticket. What followed was an epic match worthy of our sport's first US National Championship, with both Keith and Bowen matching eachother blow for blow during the final. On the line was $1000 cash and the title of "US National Pinball Champion".
Special thanks to Garrett Hays for editing the video and to Adam Lefkoff and Mark Steinman for providing the commentary. Click HERE to watch the video.