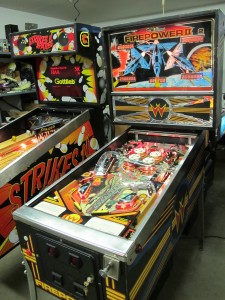 Brian Barnum, playing for the NFC North (Vikings), won a nice collection of Alice Cooper collectibles, including an autographed Poster and Photo, enameled "Fender" guitar pin, and guitar pick collection.
Brian also received an entry to the 2nd Annual FWTG Pinball Showdown at Cooper'stown, Jan 28-31, in Phoenix Az., to compete for a brand new pinball.
Next week's giveaway drawing (Dec 29th) will be for a FWTG / GGAF / Solid Rock hat AND a copy of Alice Cooper's awesome new music release – "Hollywood Vampires".
The Hollywood Vampires Project features legends Johnny Depp, Paul McCartney, Dave Grohl, Joe Walsh, Slash, Joe Perry and more, performing classic tracks from Led Zepplin, The Who, Badfinger, Jimi Hendrix, John Lennon, T Rex and more.
The Final NFL Regular Season Giveaway drawing (Jan 5th) will be for a Firepower 2 Pinball Machine!
The Firepower 2 Winner will be selected from the "Fantasy League" NFL Division whose teams score the MOST total (collective) points on the final weekend of the NFL Regular season.
As noted in the FWTG rules, winners of large items are responsible for any shipping charges (we will help line up a wholesale freight carrier), or the Firepower 2 can be picked up in the Minneapolis area.
As an alternative prize (if the winner declines the Firepower 2), Gridiron Support will provide a nice package of Alice Cooper/Solid Rock and Coach Ditka/Gridiron Greats collectibles.
Join the FWTG Fantasy League NOW, to get a shot at the Firepower 2 Pinball…The Odds are Good!
Reminder – The Fantasy League "Division" with the highest combined player WPPR Point total will receive a bonus round of prize giveaways to its players at the conclusion of the 2015 FWTG Campaign.
For more information or questions, please call Vicki @ 612-999-FWTG (3984)
A quick reminder that there are TWO components of the Flippin' With the Greats campaign:
1) The FANTASY LEAGUE – A "League" where IFPA members can support their favorite NFL team (and win cool stuff) by simply buying an IFPA medallion Personalized with the Player's name, IFPA #, and the NFL team they support.  Great prizes will be distributed to League Participants throughout the season. Click HERE for more details.
2) The TOURNAMENT SERIES – A Nationwide series of tournaments to be scheduled throughout the NFL season culminating in the SUPER BOWL Pinball Party at Alice Cooperstown in Phoenix, Az. Click HERE for more details.
The Gridiron Greats Assistance Fund (GGAF) is a non-stock, non-profit 501(c)3 organization, providing financial grants and "pro bono" medical assistance to retired NFL players in dire need.  The organization focuses on the humanitarian side of post-football related issues, which include coordination of social services to retired players who are in need due to a variety of reasons including inadequate disability and/or pensions.
Alice Cooper's Solid Rock is a non-profit 501(c)3 organization, also. Solid Rock's primary mission is to make an everlasting difference in the lives of teens by helping them meet their spiritual, economical, physical, and social need.  Alice Cooper's Rock Teen Center offers a safe, engaging environment during non-school hours –a time when they are most vulnerable to drugs, violence, and gangs. Maintaining a teen's worst enemy is too much time on their hands Solid Rock provides the music, arts, vocational programs and fellowship that challenge teens to discover their passion through music, dance, self-expression, and creativity. Learn more at www.alicecoopersolidrock.com.
Support and Follow our 2015 Flippin' With the Greats Pinball Campaign and "Like" Gridiron Support on Facebook at https://www.facebook.com/gridironsupport.org