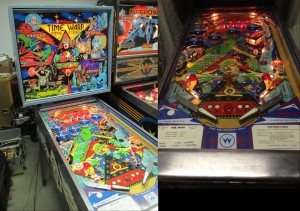 The IFPA / FWTG League is excited to announce (just in time for "Expo") – a Time Warp Pinball is up for grabs!
This machine is shopped out and ready for your home game room.
Time Warp will be awarded to a randomly selected FWTG League Participant on Oct 23rd @ 9pm CST.
Winning player will be responsible for any shipping charges (we will help coordinate a wholesale carrier), or the Pinball can be available for pick up in the Minneapolis or Chicago areas. As an alternative prize, Gridiron Support is offering a set of (5) GGAF Hall of Fame Medallions with matching serial numbers, if the winning player declines the Time Warp as their prize.